Meghalaya Elections 2018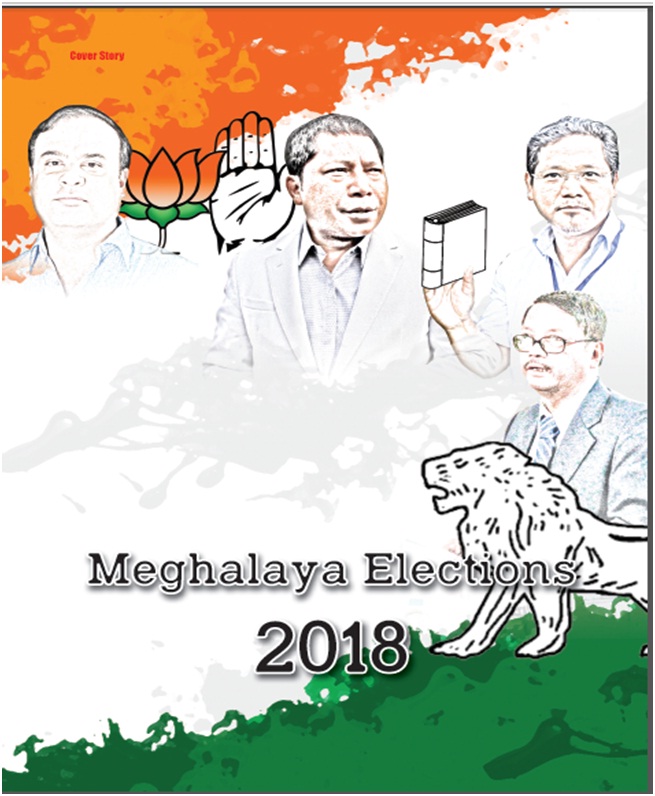 "What difference does it make to the dead, the orphans and the homeless, whether the mad destruction is brought under the name of totalitarianism or in the holy name of liberty or democracy?" – Mahatma Gandhi
Elections in Meghalaya are due to be held in the month of February 2018. But all the political parties are upbeat. Every political party has a reason to believe that Congress is down and out. However, Dr Mazel Ampareen Lyngdoh a Cabinet Minister in Mukul Sangma government feels otherwise and says that it is wrong to wipe off Congress. BJP which has no MLA in the state of Meghalaya is confident to form the next Government and have appointed the BJP National Spokesperson Nalin Kohli and Union Tourism Minister Alphons Kannanthanam, as the BJP's in-charge of election in Meghalaya are frequently visiting Shillong, meet the press and grabbing every opportunity to get publicity and space in the newspaper. On the other hand the regional parties believes that people are fed up with the Congress and anti-incumbency factor will play a major role in isolating Congress from the election scene. NPP appears to have made its presence in the Khasi and Jaintia Hills better, as seven MLA's and five MDC's have already joined the party till 28th October 2017. The seven MLAs who have inclined to join NPP are Prestone Tynsong, Rowell Lyngdoh, Sniawbhalang Dhar, Ngaitlang Dhar (all from Congress), Remington Pyngrope (UDP) and Independents Stephanson Mukhim and Hopeful Bamon. The MDCs who have inclined to join are HS Shylla, Pyniaid Sing Syiem, Ricky Shullai, Victor Ranee and Jansing Tynsong.
NPP is having reasonably good presence in Garo Hills. They are bound to give better performance in the coming elections. Dr.Mukul Sangma the Chief Minister of Meghalaya should not be undermined as he knows how to play his cards well. He is the only Chief Minster after S. C. Marak who has completed his full term in the office. All attempts to destabilise him have terribly failed in the past. It is also not clear whether voters will buy the concept that Dr.Mukul Sangma is corrupt. Every body is saying so but nobody is telling what corruption he did? The National Secretary of BJP of Scheduled Tribe Morcha, Hayithung Bill Lotha recently in a press conference termed Dr. Mukul Sangma as corrupt. Reacting to this Dr. Mukul Sangma threaten to go court and term the word as irresponsible. The term "corruption" is grossly misused in Indian Politics and it has reached to such a height that honest and dedicated bureaucrats are shying away from moving the files. This is dangerous for the development of the nation. It is a sweeping generalised remark and lacks merit. Eastern Panorama in its efforts to understand the mood of the people spoke to all the political parties and ask them five common questions. They are as follows:
• How do you see the upcoming Assembly election in Meghalaya?
• Will Indian National Congress suffer due to anti-incumbency factor?
• What according to you are the biggest failures of the present Government?
• What according to you is the biggest achievement of Mukul Sangma in five years?
• What according to you should be the new Government priority for the next five years?
We spoke to the United Democratic Party (UDP) Working President – Bindo M Lanong, State President of Bharatiya Janata Party (BJP) Yuva Morcha Meghalaya - Egenstar Kurkalang, National People Party (NPP) State President - Dr. Werlock Kharlukhi, Hill State People's Democratic Party (HSPDP), State President - Arden Miller Basaiawmoit, Nationalist Congress Party (NCP) General Secretary of Meghalaya - S.P. Thapa, Congress Cabinet Minister Dr Mazel Ampareen Lyngdoh. Here are the excerpts of the interview for the readers to take a rational decision.
To read the further article please get your copy of Eastern Panorama March issue @http://www.magzter.com/IN/Hill-Publications/Eastern-Panorama/News/ or mail to contact @easternpanorama.in