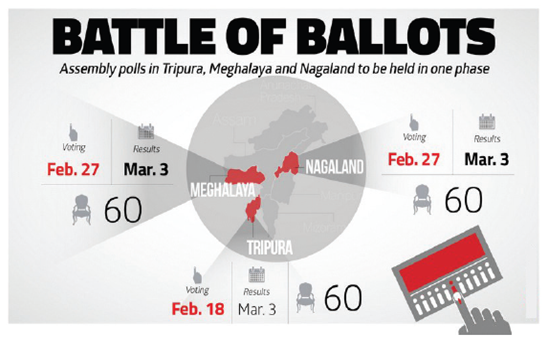 He lost both the times in 1952 and 1956 in the US Presidential polls against D.D. Eisenhower. Again in 1960, he was defeated by John F. Kennedy.
Yet Adlai Stevenson is quoted even today globally for his mind rippling poll quotes and inspirations that the Americans draw from them. Stevenson is far more important for describing polls that the victors Eisenhower and Kennedy. It was he who had described polls as "Liquid hours" as everything remains in a state of fluidity during this time.
The Hill states of Meghalaya, Nagaland and Tripura are going to polls to elect their respective Legislative Assemblies. The upcoming polls are extremely crucial under the current political set up as Tripura has been a Red Fort with the Leftists ruling for long, NPF is in seat of power in Nagaland and it is Congress at the whelm of affairs in Meghalaya.
Since Adlai, till date, is known as the best observer of sentiments of people in a poll-bound situation, let us try to understand the forthcoming "Liquid Hours" in Stevensonian way.
Nothing can certainly be said with surety about this the political futures of these three poll-bound states as apple carts of some major political parties may get toppled, many political Goliaths may kiss the dust and many dark horses making it to walk in the legislative assembly. But one thing is sure. The stature of leaders does not matter. What matters are only three syllables: "Let us March" to vote.
While addressing a poll rally in USA, Stevenson had very nicely described this: Do you remember that in classical times when Cicero had finished speaking, the people said, "How well he spoke", but when Demosthenes had finished speaking, they said "Let us march." Is not this an exact description of fomenting people's enthusiasm to march to polling booth to vote a particular party? Now the question is, a lot of political absentee landlords are flying to these three states from New Delhi. Would they be able to ensure that voters marching to polling booths, to vote the political outfits of these absentee landlords who had totally neglected the North-East, yet thronging now to seek vote?
The poll in Bharatiya- style virtually means a free for all game of political mud-slinging. In the remorseless tide of poll-history coupled with tradition, this process has started. We find Stevenson wonderfully explained this muddy game and this quote still holds well in the cases of the upcoming Northeast polls. He said: If Mr. Hughes will stop lying about me, I will stop telling the truth about him. Can you really find a more intelligent quote while describing the game of political mud- slinging?
Let us now find out the current political conditions of Meghalaya, Nagaland and Tripura to deduct the probable political outcome of the electoral battles.
A.Chowdhury
To read the further article please get your copy of Eastern Panorama March issue @http://www.magzter.com/IN/Hill-Publications/Eastern-Panorama/News/ or mail to contact @easternpanorama.in