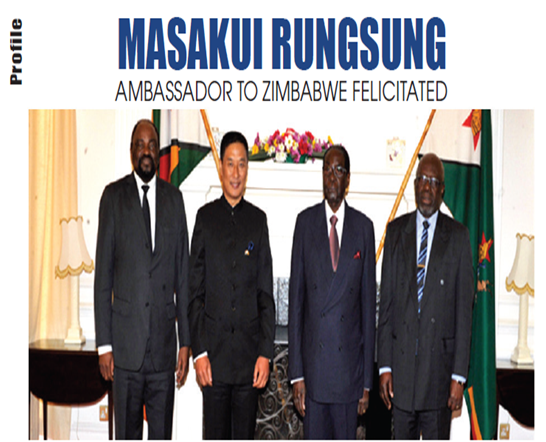 Masakui Rungsung, His Excellency , the Indian Ambassador to Zimbabwe was felicitated at his hometown, Lamlang in Ukhrul district of Manipur by Tangkhul civil organizations.
Earlier, in the past years, Masakui served as Second Secretay in Jakarta, Indonesia, Under-Secretary, UNES, New Delhi, Consulate General in Johannesburg, South Africa, Counsellor in Dhaka, Bangladesh and Director in the Ministry of External Affairs. He is from the 2001 batch of Indian Foreign Service. He has become the Ambassador of India to Zimbabwe since May, 2016.
Masakui is not the first from the Tangkhul Naga community to serve as Ambassador. Late Major Ralengnao Khathing served as Indian Ambassador to Burma in 1972. Primrose Raikhan, daughter of Mazachang Raikhan of Talui village, Ukhrul district was India's Ambassador to Portugal in 2008.
Currently, out of 90 diplomats serving as Ambassadors round the world, Shri L.D. Ralte and Ms. Nengcha Lhouvum are from the Northeast. L D. Ralte serves as Indian Ambassador to Philippines and Ms. Lhouvum is Ambassador to Indonesia.
MASAKUI'S STRUGGLE:
Narrating his struggle as a student, on the day he was facilitated, Masakui recalled how his mother supported his education by selling guava fruits. Lamlang Leisandung, Lamlang Seikhor, Lamlang Pharung, Lamlang Happy Ground and Lamlang Gate are places popular for guava plantation. His younger brother, Israel Rungsung, who got a job earlier than his brother supported Masakui financially to pursue his further studies.
While studying BA at St. Edmund's college, Shillong, Masakui stayed at BT hostel. Humble and down to earth, he was like any other student. He played volleyball.
Wungkui Zimik
To read the further article please get your copy of Eastern Panorama March issue @http://www.magzter.com/IN/Hill-Publications/Eastern-Panorama/News/ or mail to contact @easternpanorama.in