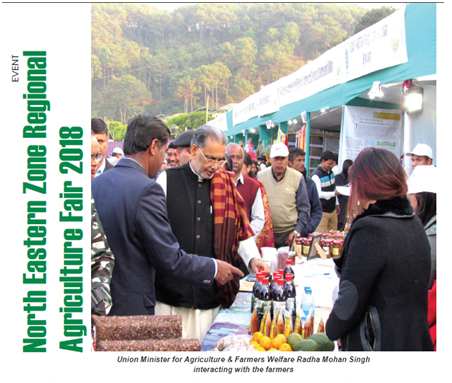 Four days Agriculture Fair with the theme "Drive to doubling income of Tribal Farmers in the North East India" was inaugurated on 6th January 2018 by Shri Radha Mohan Singh, the Hon'ble Union Minister for Agriculture and Farmers' Welfare Government of India. Other Dignitaries who were present on the occasion were Dr Y. R Meena Additional Commissioner (Extension), DAC&FW, MOA &FW Govt of India, Dr Narendra Prakash, Director ICAR Research Complex.
While addressing the gathering, Shri Radha Mohan Singh said, that the government has initiated various flagship programmes for the welfare of the people living in the rural areas, especially the farming communities focusing mainly to double the farmers' income from agriculture and allied sectors. On his Maiden visit to the State, the Honorable Union Minister appreciated the initiatives of ICAR Research complex, Umiam for leading basic, strategic and applied research specific to the farming problems of the Northeastern Region. He lauded the efforts of ICAR, NE Region in launching the programme to double the income of the farmers on a pilot basis in the villages adopted by them for the next five years. He further added that 90 percent assistance is given to the Northeastern States and he urged the Meghalaya Government to sincerely utilized and assist all the farmers regarding their financial assistance.
Dr Narendra Prakash, Director ICAR Research Complex for North-East Region highlighted the achievements of the institute for the last decade. The institute has extended more than three decades of dedicated service to the region in the form of sound research and extended support in all the disciplines of Agriculture, Horticulture, Animal Science, Agro –forestry and Fisheries through institute level programmes and various externally aided projects to cater the need of the hill farming community for improvement of their livelihood security. Dr Y. R Meena Additional Commissioner (Extension), DAC&FW, MOA &FW Govt of India said that the farmer's centric activities are organized actively and successfully under the aegis of the present government for the betterment of the farmers. The scope is to directly communicate with the farmers for their betterment and successful implementation of schemes.
On the four days Agriculture Fair various stalls were set up to displayed various Agri products. The four days Agricultural Fair was being participated by farmers from all over the Northeast region. These stalls were set up by the farmers and several Self Help Groups (SHGs).
EP Desk
To read the further article please get your copy of Eastern Panorama March issue @http://www.magzter.com/IN/Hill-Publications/Eastern-Panorama/News/ or mail to contact @easternpanorama.in