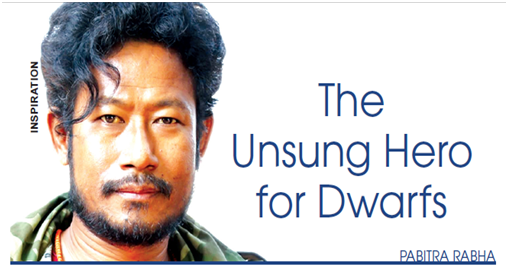 The picturesque village is nestled in the wooded hills of Bhutan border of Udalguri district. The entire region was crippled by insurgency. The clashes between the Army and the militants disrupted the normal life for years. There was little space left to thing beyond terror. And he came out from that protracted conflicts. He was studying Master degree in Guwahati University then. One fine day he decided to go to New Delhi, his heart's desire at NSD (National School of Drama). It is none other than the Pabitra Rabha, the man behind changing the lives of dwarfs from Assam.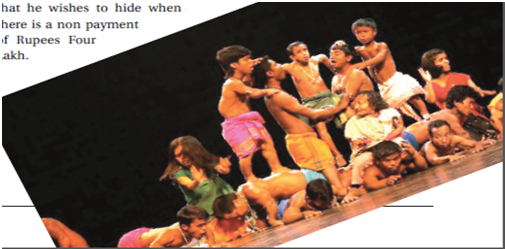 The quest for meeting him was long-overdue. And in the weekend, we moved in the early morning at an easy pace towards his dream initiative. Pabitra welcomed us at Tangla town and our car sent up clouds of dust to his village Jalah. Life appeared a treasure hunt for Pabitra. It was like we are entering through a hermitage where a dwelling occupied by an isolated group of dwarfs, the verticallychallenged people that prefers solitude. Dwarfs are person of abnormally small stature owing to a pathological condition, suffering from cretinism disease that produces deformation of features and limbs. He set up a special home for dwarfs to live with dignity and comfort. It is no Edinburg Castle but it's 'Amar-Gaon'.
It's truly amazing from the Japana (gate), a bamboo made level crossing. There are tables, benches made of wood block that reflects his artistic ability. They are arranged nicely to form a makeshift drawing room. The beautiful 'Chang Ghar' is adapted for comfort living to dwarf's physical stature. Heart-throb Jubeen uses to rest for a while he visited there. The entire area is clean and tidy. It put together a list of some relatively small changes to make things healthier with little effort. He made fun of his right trademark ponytail that he wishes to hide when there is a non payment of Rupees Four Lakh.
NSD Alumni (2000-03) Pabitra is genuinely kind and compassionate from his university days. He is always willing to help others. He has a heart of gold for the needy and deprived people. And therefore after NSD, he left lucrative career in films at the city of dreams Mumbai to his eternal village. They might be short, stocky humanlike creatures but they are generally skilled person. Initially there was a practical hindrance to persuade to localite. He went from door to door for that mission but got into difficulties. He determined at bringing them together under one umbrella. Yet neighbours thought his concept was drivel. Socio c u l t u r a l organization 'Dapon' – The Mirror (2003), has given a new platform to their lives and could bring back smiles to the face of these vertically challenged people.
Kamal Baruah
To read the further article please get your copy of Eastern Panorama March issue @http://www.magzter.com/IN/Hill-Publications/Eastern-Panorama/News/ or mail to contact @easternpanorama.in