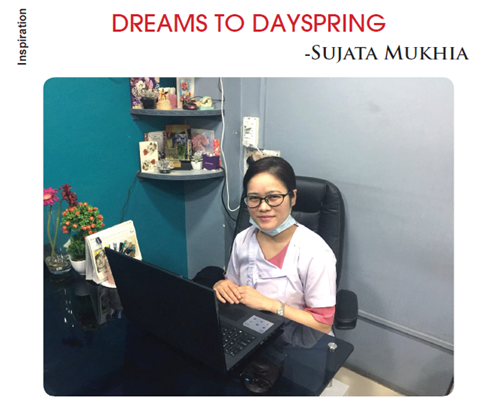 The rooms are bright and clean, quiet as Dr. Sujata takes care of a patient reclining in the chair at her Dayspring Dental Clinic. She works steadily, taking the time to give her undivided attention to the person in front of her. She doesn't rush, instead working steadily to provide the first-class treatment her reputation has been built upon.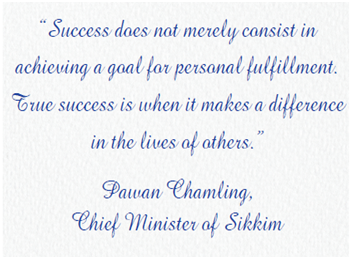 Sujata Mukhia was only 12 years old when her father Pratap Mukhia passed away. Her mother, Nandika, was left alone to raise her three children. At such a tender age, Sujata was struck by the reality of her mother bearing an enormous burden of emotional, financial and physical hardships. Sujata saw her own inability to help her mother cope with these difficult circumstances. At that age, she neither had the capacity to work nor did she have the intellectual maturity to philosophise her pain and suffering. But what she could do, she did wholeheartedly as she helped her mother take care of the house and began to work hard at her studies.
As she studied, she realized she would need to put in extra effort to match the skill of some of her brilliant classmates in Deorali Girls' Senior Secondary School in Gangtok. She decided that she wanted to become a doctor and the dream of that goal kept her focused and committed. Living in one bedroom government quarter hardly allowed enough space for her studies. After her household chores, she would sit on the veranda and burn the midnight oil. She soon won the hearts of her teachers and some of them began to think of her as their own daughter. Their closeness and support gave her added encouragement.
Her Class XII exams were crucial to her long-cherished dream. It was a now or never battle for her. She gave it her best shot. When the results finally came, she was eventually selected for BDS. Having learned to struggle for her entire childhood, she took it in stride and made up her mind to become a dentist.
Venturing out of state for the first time in her life, she missed her father's support. Instead, her best friend's father, Mr. Aching Lepcha, accompanied her to this new place and helped her get admitted into Government Patna Dental College and Hospital in Bihar. Some of the teachers she had come to lean on for support encouraged her to keep at it and reassured her as she set out to tackle this new challenge.
Jiwan Rai
To read the further article please get your copy of Eastern Panorama March issue @http://www.magzter.com/IN/Hill-Publications/Eastern-Panorama/News/ or mail to contact @easternpanorama.in