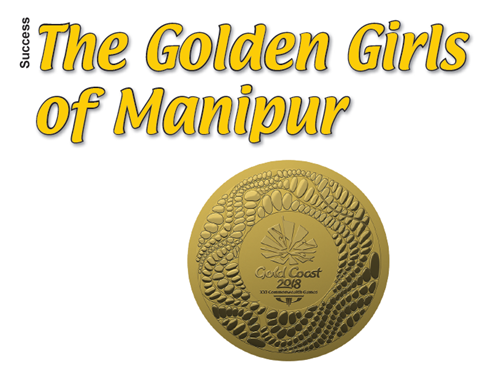 MC Mary Kom, Sanjita Khumukcham and Saikhom Mirabai Chanuare the three Manipuris who struck gold for India in the recently concluded Commonwealth Games held in Gold Coast Australia. In fact weightlifter, Saikhom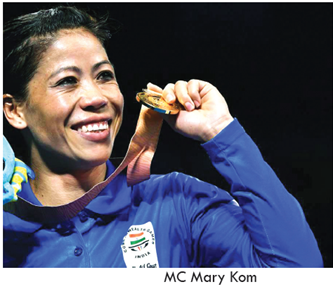 Mirabai Chanu opened India's medal account with gold on the first day itself with her record-smashing performance in her 48kg weight category. The 23-year-old weightlifter pulled off a clean lift in the clean and jerk, lifting 80kg, 84kg, and 86kg in all her three attempts.
Following up Mirabai Chanu's achievement was another woman Manipuri weightlifter, Khumukcham Sanjita Chanu, 24 years of age, finishing on top of her pack (53kg), striking the second gold for India. While winning gold had always been the goal for Sanjita who had struck gold in the last edition of the Commonwealth, it was, however, an uphill task as she had to fight out of her comfort zone of 48kg. The 24-year-old, two times gold medal winner for India while reacting to her victory said she was thrilled but disappointed that she couldn't set a new record for the is games.
The legendary woman boxer, MC Mary Kom, 35 years, proved her worth once again punching her way to glory, defeating Northern Ireland's Kristina O'Hara 5-0, to win the yellow medal at the Commonwealth Games. Incidentally, it was Mary's first Commonwealth Gold.
Legendary MC Mary Kom became the first women in India to win gold medal in boxing by beating Northern Ireland's Kristina O'Hara in the concluded Common Wealth Games.
Competing in her debut Common Wealth Games, the five-time world champion and Olympic bronze-medallist made it a memorable one with yet another dominating performance by defeating her younger opponent through a unanimous verdict of 5-0.
While Mary Kom's bio is quite well known with even a Bollywood film made on her life, starring Priyanka Copra, little is known about the two golden Manipuri girls who had to battle poverty, constantly on their way to glory. Eastern Panorama caught out with the families of both the 'Chanus' to bring you their backstories.
Sanjita Khumukcham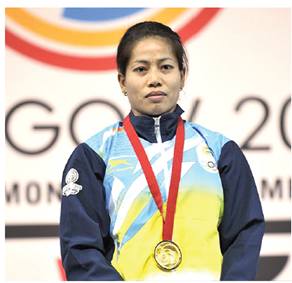 If it was not because of her father, Lukhoi Khumukcham, Sanjita would have been swapped for a male child, revealed her demure but caring mother, Takon. Takon and other expecting mother had a deal in the hospital where they were brought for delivery. Apparently, the other mother already had three boys and wanted a daughter while Takon wanted a baby boy having already had two daughters. After delivery Sanjita and the other mother delivering a baby boy, both mothers were committed to their deal but Lukhoi objected to the swap, recalled Sanjita's mother.
Born to a poverty-stricken family, in a remote far-flung village in Thoubal district called Kaching Khunou, Sanjita's sister Babita having completed a nursing diploma was moving to Imphal city for a job in a private hospital. Babita decided to take along all four of her sibling to provide them a better education in the city. At that point of time, Sanjita was in standard IX.
It was during their stay in their one-room rented home in Imphal that Sanjita decided to take up weight-lifting. Sanjita used to accompany two of her neighboring friends to SAI (Sports Authority of India) and watch them practicing and competing. Sanjita was fascinated and decided to join them.Despite warning from her father that she might not get the financial support she needed as an aspiring sportsperson due to poverty, Sanjita struck to her plans.
Seeing her commitment and knowing her diehard attitude, her parents relented and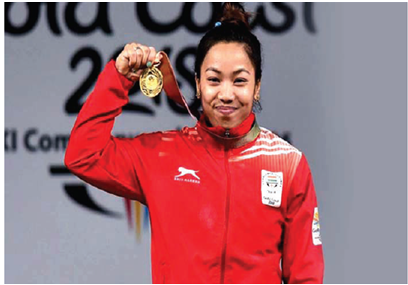 supported her wholeheartedly with whatever they had. This doesn't mean they could meet all her requirements.
Before Sanjita was selected by SAI as a player, during 2006-2007 in her formative years as a weightlifter, there was a secret which Sanjita's family kept it amongst themselves out of embarrassment. Whether Sanjita would participate in a championship, the family knew for certain two things – One was that she would grab a medal. It was the second that not only worried them but caused huge embarrassment.
Bijen Khumukcham, Sangita's younger brother who she loves very much, revealed that whenever Sanjita competed, the family would be busy preparing to take her to the hospital where she would be nursed back to health in about 2-3 days. This was a regular routine for quite sometimes as, after the competition, Sanjita would throw up blood and would need hospitalization.
Sunzu Bachaspatimayum
To read the further article please get your copy of Eastern Panorama March issue @http://www.magzter.com/IN/Hill-Publications/Eastern-Panorama/News/ or mail to contact @easternpanorama.in