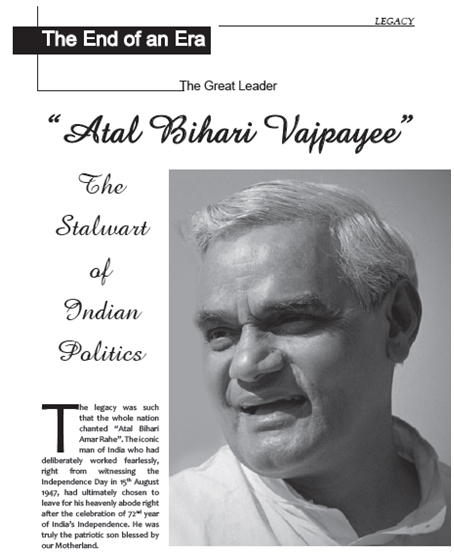 Prime Minister Narendra Modi and BJP President Amit Shah walked 5km in the scorching sun behind Atal Bihari Vajpayee's hearse, accompanied by other BJP leaders, seeking to pay an "extraordinary tribute" to 'Atal', the stalwart of the BJP.
He passed away on 16th August after battling a prolonged illness at the All India Institute of Medical Sciences (AIIMS). Former Prime Minister Atal Bihari Vajpayee was cremated with full state honours of 21 gun salute at Smriti Sthal on the banks of the Yamuna in Delhi. His adopted daughter Namita Bhattacharya lit the funeral pyre which in itself was unique (sending a message of gender equality) for customarily only a male is allowed to carry on with the last Hindu funeral rites.
"You can change friends but not neighbours",
Atal Bihari Vajpayee famously said 15 years ago and the goodwill he enjoyed among neighbouring countries was visible where all the South Asian Association for Regional Cooperation Nations (SAARC) and the Diplomats from a number of other countries including Pakistan were also present at his last journey Atal Bihari Vajpayee was an iconic leader of the Bharatiya Janata Party (BJP), known for his cultural moderation, liberalism and political reasonableness. He became the Prime Minister of India thrice – first in 1996 when he served the term for 13 days, second in 1998 for a period of eleven months, and third time in 1999 for a full term of five years. It was during his tenure that India successfully conducted nuclear tests at Pokhran and renewed hopes for peace between India and Pakistan which emerged with the start of the NewDelhi-Lahore bus service. His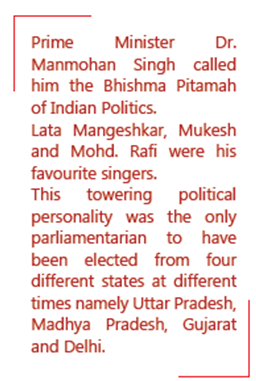 government has been till date the only non-Congress government to stay in power for five years. Atal Bihari Vajpayee was also a renowned poet and a highly popular personality across the political spectrum.
He had a long history of illness. He underwent knee replacement surgery in 2001. A stroke in the year 2009 impaired his speech. In the last few years of his life, he was largely confined to a wheelchair and failed to recognise people. He suffered from dementia and diabetes. He had not attended any public event in the last few years of his life.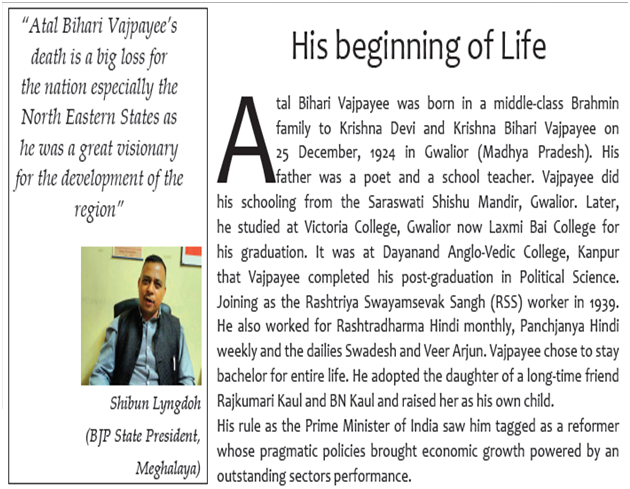 Rashmi Mizar
To read the further article please get your copy of Eastern Panorama March issue @http://www.magzter.com/IN/Hill-Publications/Eastern-Panorama/News/ or mail to contact @easternpanorama.in