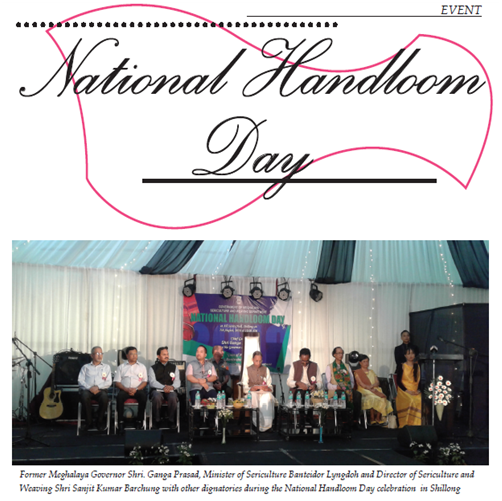 The Department of Sericulture G o v e r n m e n t of Meghalaya c e l e b r a t e d the 'National Handloom Day" at All Saints' Hall, Shillong in which the Governor of Meghalaya, Shri Ganga Prasad was the Chief Guest and Minister of Sericulture & Weaving, Banteidor Lyngdoh was the Guest of Honour.
The National Handloom Day is being observed every year on 7th August to honour the Handloom Weavers in the country and also to cater an impetus to India's handloom industry. The celebration of the day seeks to highlight the contribution of handloom to the socio-economic development of the country, to increase the income of the weavers and also enhance their pride.
The first National Handloom Day was inaugurated on 7th August 2015 by Prime Minister Narendra Modi in Chennai Tamil Nadu with the objective to generate awareness about the importance of India's handloom industry. The day was chosen to commemorate the Swadeshi Movement which was launched in 1905 at Calcutta Town Hall to protest against the partition of Bengal by the British Government. The movement had aimed at reviving domestic products and production processes.
Sericulture and Weaving in Meghalaya are the two most important cottage based, ecofriendly industries in the rural areas. These industries portray the cultural ethos and rich heritage of the State. In the absence of a textile industry, Sericulture and Weaving can play an important role in the production of Silk fabrics and hand-woven fabrics of ethnic designs. Till date, around 15,900 families are involved in handloom activities and 16,000 families in Sericulture farming. Meghalaya has a total of six Mulberry Farms, three Eri Farms and two Muga Farms across the State. Till date, the State has nine Mulberry and four Muga nurseries with a total of 11 Training Institutes located at Ummulong, Nongpoh, Jowai, Nongstoin, Aradonga, Resubelpara, William Nagar, Baghmara, Tura and Mendipathar (Weaving) which are meant for imparting various courses of training along with the issue of certificates.
To read the further article please get your copy of Eastern Panorama March issue @http://www.magzter.com/IN/Hill-Publications/Eastern-Panorama/News/ or mail to contact @easternpanorama.in