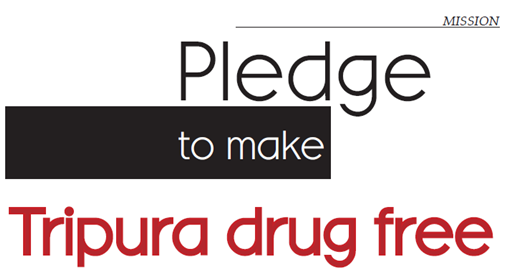 With the close proximity of Bangladesh and Myanmar, Tripura has been used as a corridor of drug and contraband smuggling for over a decade. Cannabis cultivation became rampant in the bordering sub-divisions of the state, which grew an alternative source of economy.
The per capita income in 2011-12 in respect to consumer price index of 2004-05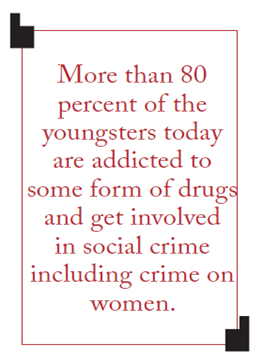 was Rs 50,000 and in 2017-18 corresponding to the consumer price index of 2011-12 rose to Rs 80,000 without expansion of industries or much increase of agriculture productivity. Since 2005, with the decline of insurgency rubber cultivation got a boost in Tripura and land use pattern of the state has been changed. The conversion of agriculture land to rubber estate became phenomenal in the state.
The fluctuation of the rubber market at international level since 2010 insisted people think the alternative, which had given the birth of cannabis cultivation and run the smuggling business with neighbouring countries. However, since 2016 the trend of cannabis and drug substance deal shifted to domestic market and Assam, West Bengal, Bihar, Uttar Pradesh and Karnataka, turned into a potential market for Tripura cannabis. The inner part of most of the rubber estates across the Indo-Bangladesh border from south to north stretches turned into cannabis orchard. The supply chain of brown sugar, heroin, psychotropic substances, stimulating drugs, Codex, Phensedly and sex tablets got expanded from golden triangle of Manipur to Tripura and further to Bangladesh through cannabis cultivators.
Dry cannabis leaves was initially supplied to Bangladesh, Middle East countries,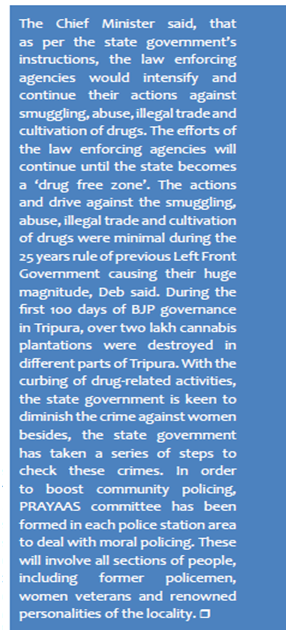 Afghanistan and a few provinces of Pakistan besides, local markets. Apart from courier service, Indian Postal service have been used as carrier of the narcotic substances in Tripura and police often raids in the postal outlets and courier dispatches and getting success.
Unfortunately, the then government was lenient towards the drug business and as a result, drug paddlers appeared to be main funding source of livelihood of former ruling party cadres and political activities. As a result, a section of policemen, civil administration and ruling party leaders somehow got involved in the drug smuggling racket and previous government headed by Manik Sarkar was not able to grip the situation. More than 80 percent of the youngsters today are addicted to this form of drug or other and get involved in social crime including crime on women. During insurgency since 1992 up to 2007, thousands of families had to move leaving home and hearth. Well established businessmen and village entrepreneurs ran away from the rural areas and re-settled in urban areas and became poor. In fact, a major chunk of Tripura population was shifted from Bangladesh because of atrocities leaving behind core of rupees asset there and second time, they were homeless due to insurgency. The drug business appeared to be the easy earning option for them when they found government was failed to deal with the menace effectively.
Biswendu Bhattacharjee
To read the further article please get your copy of Eastern Panorama March issue @http://www.magzter.com/IN/Hill-Publications/Eastern-Panorama/News/ or mail to contact @easternpanorama.in