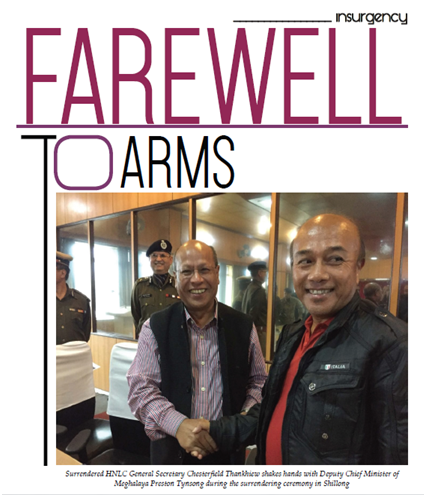 There is visibly a rising sun of hope, that Meghalaya the land of clouds, would look ahead of more peaceful days and time ahead, as insurgent activities is on the wane. Insurgent movements which have clouded many parts of the world and also in India have spread in the North Eastern part of the country which is sensitive, bordering several foreign neighboring countries such as China, Bangladesh and Myanmar. Insurgency has come about mainly in Nagaland, Mizoram, Assam, and Tripura to some extent in Manipur and Meghalaya.
In Meghalaya, it was in the year 1997, that insurgency had raised its head in the Hynniewtrep region of Eastern part of the state, when the Hynniewtrep National Liberation Council (HNLC) was formed. The organization had decided to take up to arms, mainly in protecting the ethnic identity of the people and also the economic interests and other interests, such as the language and culture and prevent from the increase influx of the foreign nationals and other communities from other parts of the country.
There were several armed skirmishes, between the insurgents with security forces and also the police in which many lives were lost in the cross fire including innocent people. Many people were abducted including traders from markets places. The insurgents had held a promise to the people to achieve a political identity within the framework of an independent boundary so as the administrative rights be recognized, that have not been inked in the constitution of India, since the period of independence of the country.
The insurgent outfits had however resorted to an armed struggle which have brought about negative result in other parts of the globe and also in the country, such as in Punjab and other areas in Central India. It was to this end that the HNLC was formed. The organization has abducted and also lured youths in joining its rank and file and also those who have volunteered in joining the outfit. Training camps were set up in the neighbouring Bangladesh, south of the border. Yet after years of struggle, there was little achievement.
There were signs of desperation of the HNLC, when the most senior leader Julius Dorphang had decided to quit and came over ground. He had joined the political set up and won in the elections to the Meghalaya Legislative Assembly from Mawhati constituency. He was however defeated in the last election of 2018.
The General Secretary of the HNLC Cheristerfeild Thangkhiew however surfaced and gave up himself, before the Deputy Chief Minister of the State Prestone Tyngsong on October 19. Thangkhiew was the founding member of the HNLC right from 1997, holding the post of General Secretary. The HNLC is now only left in senior ranks of Bobby Marwein being the Commander in Chief of the outfit, since its inception.
Sumar Sing Sawian
To read the further article please get your copy of Eastern Panorama March issue @http://www.magzter.com/IN/Hill-Publications/Eastern-Panorama/News/ or mail to contact @easternpanorama.in