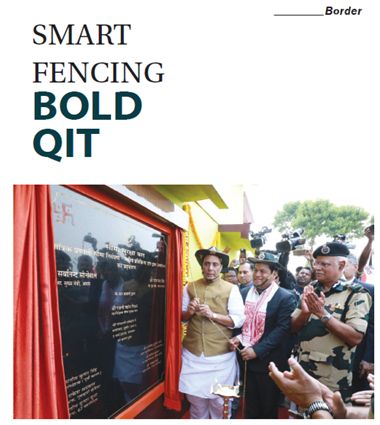 Union Home Minister, Rajnath Singh inaugurated the smart fencing BOLD QIT ( Border Electronically Dominated QRT Interception Technique), a technology solution to seal the border at Barmanpara border area of Dhubri district with Chief Minister, Sarbananda Sonowal on March 5.
After inauguration, Singh and Sonowal addressed a public meeting at Dhubri Sports Complex (Stadium) and elaborately explained as how this technology would work towards sealing the border completely.
Singh in his speech said that vast riverine area and unfenced parts of border would now be manned by this technology of smart fencing called BOLD QIT under CIBMS (Comprehensive Integrated Border Management System) on the line of border manning System of Israel and America.
"It was long due demand of various organizations of Assam to seal the border completely, but no government did anything on it but when NDA led by BJP came to power, Prime Minister, Narendra Modi decided to go ahead on this, and the work started getting implemented on the ground in January 2018 and today I have formally inaugurated it in quick span of time", Rajnath Singh said.
Singh said that now only 61 kms of border would be covered under this technology surveillance system equipped with night vision support, and any movement along the border be it trans-border cattle or other smuggling or intruder crossing the border could be intercepted and Jawans of nearest border post could apprehend them within few seconds.
Similarly Cachar, Karimganj and South Salmara-Mancachar sharing border with Bangladesh would be sealed with this BOLT QIT system, Singh added.
Singh also made a scathing attack on the opposition, questioning number of causalities that caused by air strikes in militants' fidayeen training camps at Balakot and other camps. He said that, by the mobile intercepting system, it was found that 300 mobile phones were active, when the camps were bombed. "Were the mobile phone users were tress in forest?", he ridiculed the opposition with counter questions and said that if they want proof should go in Pakistan and verify them.
Bijoy Kumar Sharma
To read the further articles please get your copy of Eastern Panorama April issue @http://www.magzter.com/IN/Hill-Publications/Eastern-Panorama/News/ or mail to contact @easternpanorama.in