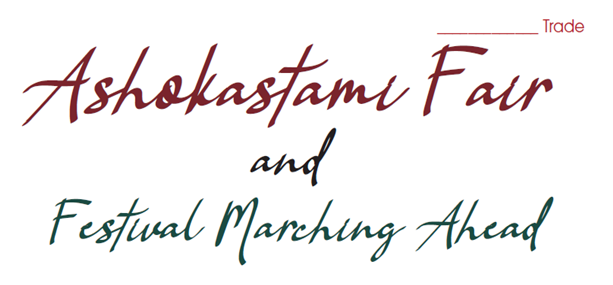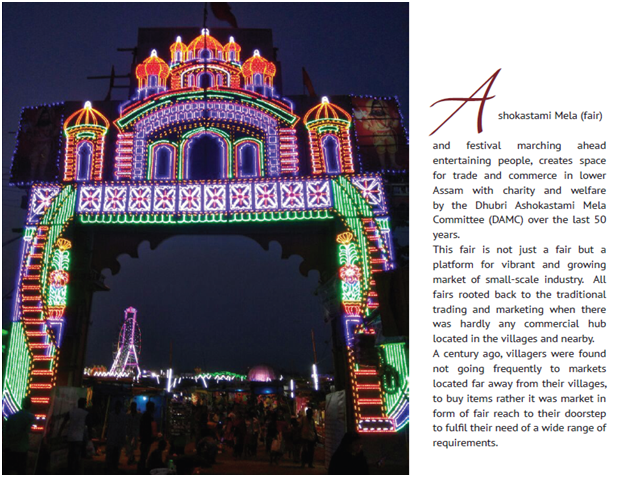 Talking to Eastern Panorama, Working President of DAMC, Partha Pratim Ghose opined that this tradition is still alive which only got transformed from fairs to festivals today with a passage of time, but the mode of the trading of commodities, by and large, remains same.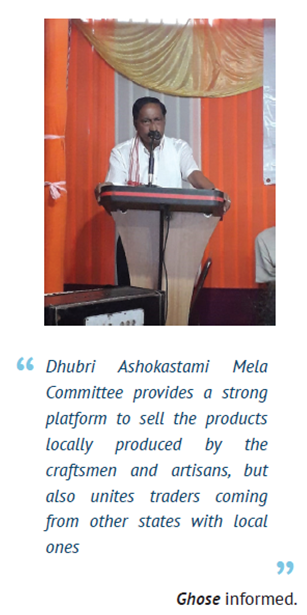 Vice-President of DAMC, Kalyan Purkayatha informed that as many as eight local big fairs and festivals held across the lower Assam districts around the year, provides a huge market for goods locally produced, this too without any institutional or government financial assistance.
"Ashokastami Mela held in March-April, the fair during Shahidi Divas of Sri Guru Teg Bahadur Sahib in November-December, Bilasipara Raas Mela in December, the fair at Bogribari Mahamaya Dham, Durga Puja festival across lower Assam districts in September-October, Charantali Mela in Garo Hills adjoining Dhubri district in April and Raas Melas in Barpeta and Nalbari districts in November-December have all created a huge market for local products", Purkayastha further informed.
Talking to Eastern Panorama, Debobrata Das, a social activist of Bilasipara informed that these trades had grown over the years without any assistance.
"Terracotta, pit-craft, pottery items, toys, brooms, doormats, wall decorations, cane and bamboo items, and handloom goods are some of the few items which have tremendous financial potential in the market to the tune of Rs 25 to 30 crore", Das said.
A pottery artisan of Dhubri town, Dev Kumar informed that a terracotta artisan and craftsmen could earn Rs 10,000 to Rs 15,000 even in a small village-level fair during Durga Puja.
"Longer the period of fair, higher the income. In big fairs like the Dhubri Ashoka Ashtami Mela, which is held for 15 days, an artisan can earn around Rs 40,000 to Rs 50,000. So all fairs should be patronized by the government to promote local artisans and craftsmen". Kumar added.
Apart from this potentiality the organizer of this fair and festival, there is the face of humane that comes out of this fair and festival as Dhubri Mela Committee (DMC) spends lakhs of rupees in charity and welfare every year from a surplus of the income generated for organizing this fair and festival.
Talking to Associate Editor of Easter Panorama, Bijoy Kumar Sharma, General Secretary of DAMC, Ganesh Sen informed that the committee spent Rs. 8.74 lakh in charity and welfare during 2018-19 from the surplus of fund that was generated from Mela (fair) of 2018.
Sen also informed that during the same financial year, DAMC contributed Rs. 5 lakh for construction of boundary fencing of historic Raja Prabhat Chandra Baruah Maidan, Rs.50,000 to Pallimangal Club, Rs. 60,000 to three temple committees, Rs. 50,000 to Bharat Seva Ashram of Dhubri town.
"Apart from these, the committee also spent Rs. 1.90 lakh against the medicines purchased for the poorest of poor people every Sunday and Rs. 24,000 for imparting computer training to needy and poor youths during 2018-19", Sen further added.
During the celebration of Golden Jubilee last year in 2017-18 they got 20 boys trained in computer education for a six-month course by spending Rs.36,000 and Rs. 5.70 lakh donated to various organizations, including Sri Ramakrishna Mission, for their development and construction works, Sen further informed.
Sen also said that apart from construction of Open-Air-Theatre (OAT) and other buildings, the mela committee also continued to carry out various social welfare and sports activities and extended financial assistance to various socio-cultural welfare organizations and educational institutions of the town.
Bijoy Kr Sharma
To read the further articles please get your copy of Eastern Panorama May issue @http://www.magzter.com/IN/Hill-Publications/Eastern-Panorama/News/ or mail to contact @easternpanorama.in