Let Art of Meghalaya Prosper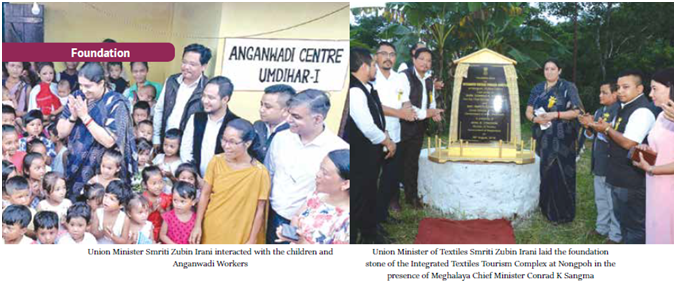 Union Minister of Textiles Smriti Zubin Irani laid the Foundation Stone of the Integrated Textiles Tourism Complex at Nongpoh, Ri Bhoi district, Meghalaya.
During her address, Smt. Irani said that the Central Government is committed to supplement the endeavors of the State Government for development in the sector of textiles and women and child development. She said that the complex and the activities therein have been funded by the Government of India so that the art of Meghalaya prospers. The minister informed the gathering that it has been the direction of the Prime Minister to skill the people of Meghalaya, specially for a state like Meghalaya which celebrates the aptitude of 54000 artisans in the beautiful state, to ensure that those who currently undertake crafts in wood, bamboo, stone carving, embroidering, pottery, dry flower and jewellery will get benefits and aid from Government of India.
The Minister said that Rs 8 crore has been sanctioned for skill development program for 7,200 people in Meghalaya in the textile sector. The Union Minister also announced that under the 'Samarth' scheme which erstwhile plans to skill 7,200 youth in apparel & garmenting, textiles and handloom sectors has now been extended.
Smt Irani said, that under the handicraft sector, the Government had created an identity card called 'Pehchaan' to help the artisan avail benefits, including free tool kits for people coming from economically challenged backgrounds.
Since Meghalaya is one of the hubs of 'ahimsa' silk, till date over 3,000 people from Meghalaya have applied for the program. The Union Minister urged the Meghalaya Government to utilize this capacity of the State and to promote the brand worldwide. The motive of this program is to provide benefits and branding of the 'Ahimsa Silk' in the sericulture sector.
The Union Minister also informed that there are various initiatives from the Government of India whereby artisans are encouraged to pursue their studies by funding of 75% of their education fees by the Government and urged the people to make full use of these Government's programs.
The Union Minister distributed free tool kits to beneficiaries and also interacted with the children and Anganwadi Workers at the Umdihar 1, Ri Bhoi district Meghalaya.
Meanwhile Meghalaya Chief Minister Conrad K. Sangma appreciated the efforts put in by the Government of India and the commitment of the Union Minister to work for the welfare of the people of Meghalaya.
To read the further articles please get your copy of Eastern Panorama October issue @http://www.magzter.com/IN/Hill-Publications/Eastern-Panorama/News/ or mail to contact @easternpanorama.in