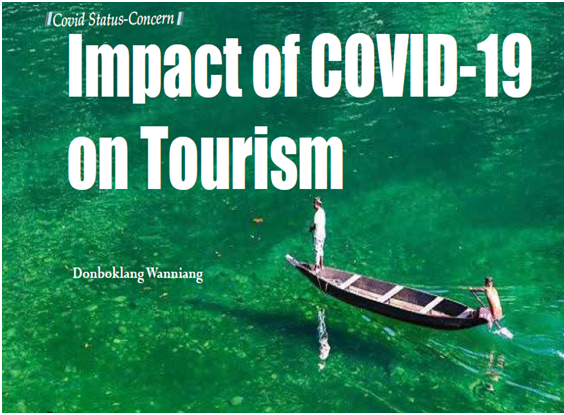 The COVID-19 pandemic is probably been the most devastating of financial and social crisis of recent times, leading to suspension of almost all economic activity and forcing nationwide lockdown across the globe.
In India, Tourism contributes approximately 5.06 per cent in India's Gross Domestic Product (GDP) yet tourism can be seen as the worst hit sector in the country. The ongoing pandemic, travel restrictions, and the country wide lockdown have brought the entire tourism industry to a standstill, and unlike other sectors, tourism will take longer to recover as it does not fall under 'Essential Commodities'.
Overall, Tourism Industry employs over 8.75 crore people in Hospitality Industry, Tour Operators, Travel Agents, Home Stay, Drivers, Guides, Small Traders, Artisans and Craftsmen among other service providers. Since, tourism sector is linked to other sectors such as agriculture, transport and handloom etc, hence disruptions in tourism sector have resulted in making many people unemployed.
According to the World Tourism Organization (UNWTO), the International Tourism could decline by 80 to 60 per cent in 2020 due to the COVID-19 pandemic and resulting in the loss of revenue up to $910 billion to $1.2 trillion.
According to the Indian Association of Tour Operators (IATO) Hotels, Aviation and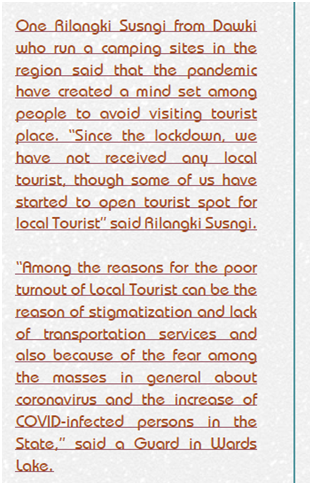 Travel Sector together may incur a loss of about 85 billion due to travel restrictions imposed on foreign tourists. Though domestic transport facilities are being made somewhat operations yet it is clear that the practice of social distancing as prescribed by the Ministry of Health Department will continue to impact tourism in the future.
It is not exaggerated to say that Meghalaya is one of the most beautiful and famous state when it comes to attraction of tourist in terms of both domestic and international tourism. The state is covered with deep dense tropical forest and shrouded in cloud and rain for much of the year. The abode of clouds, offers a myriad of sights, food, activities and festivals to the tourists. Not only for these, but tourists also throng here to explore top tourist attractions in Meghalaya. The state is a jewel in the crown of Northeast India.
Just like the rest of the country, Meghalaya Tourism Industry too suffers after the outbreak of COVID-19 worldwide. On March 8 2020, Meghalaya Chief Secretary, M.S Rao came out with the notification to close down all tourist destinations in order to prevent the spread of the virus.
The state before the outbreak of COVID-19 was able to generate approximately 75 crore revenue from tourism which is far better than most other states in India when it comes to tourism. Sohra and Mawlynnong village in East Khasi Hills district are the most affected tourist destination, as restriction for tourist inflow came into place.
One Kyrmen Syndai of Sohra who for the time being is selling vegetables in his car in Shillong city said that he is compel to sell agricultural products for his restaurant near'Noh Kalikai Falls' is being closed since the month of March 2020.
Rishot Khongsngi who runs a snack outlet in Mawkdok said that her families are depending on this stall since Mawkdok attract hundreds of Tourist each day but dice the start of the pandemic, their families members have to look for other options to earn their livelihood.
Donboklang Wanniang
To read the further articles please get your copy of Eastern Panorama October issue @http://www.magzter.com/IN/Hill-Publications/Eastern-Panorama/News/ or mail to contact @easternpanorama.in