To take a risk is an ability which is inborn in every human. However, most loose this ability with the passage of time. Few people destined to be leaders in their areas of interest take the plunge in directions in which they risk it all to get to their goals. One such leader in development for the state of Meghalaya is Dahun Shisha Lyngdoh. She not only left a lucrative career with the corporate giant Google but went all out in her preparation of Meghalaya Civil Services. The result reflects the hard work. She topped the civil services examinations in the state.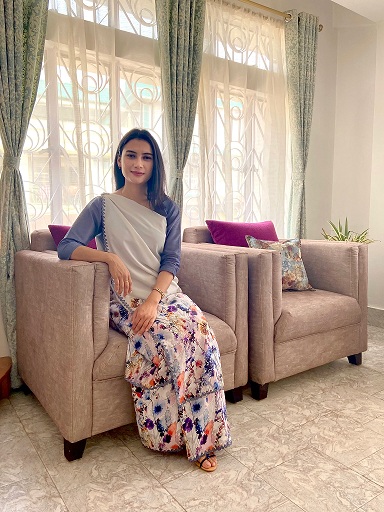 Dahun Shisha Lyngdoh hails from Caroline Colony, Jowai in Meghalaya. She is the daughter of Elias Siangshai and Oisibon Lyngdoh. She is a brilliant student, and had secured second position in her class 12 boards in the Commerce stream. She graduated with honours from Shri Ram College of Commerce under

Delhi University

. She is currently serving as a Junior Divisional Accountant (JDA) with the PWD Roads at Jowai Central Division.
In an interview with Eastern Panorama, Dahun highlighted her zeal to serve. She said "believe in your potential and be consistent in whatever you do.

It's not easy, but if it was, everybody would be doing it'.

Here are the excerpts of the interview:
1)
What inspired you for public service?
I wanted a career that would give me job security but would also provide me with the opportunity to play a greater role in my society through the work that I do.
2)
You were working at Google. What made you come back to Shillong?
Being a commerce graduate, it was very exciting to get a chance to work at a multinational company and experience corporate life. However, I already knew working at Google was a temporary gig as I had always had plans to appear for the civil exams at both the national and state levels. I had also been away from home for a long time so I wanted to come back and be closer to my family.
3)
What has been your motivation for pursuing government service when you were working in the corporate sector?
Working in the corporate sector is very rewarding but can also be quite challenging. You can quickly get caught in the rat race and then you lose your sense of purpose in the day to day grind. I felt that working in the public sector, especially as a civil servant with some sort of leadership role, would be more fulfilling as I can directly help improve lives through developmental/welfare schemes of the government.
4)
How did you go about the preparation of the service exams
?
To read the further articles please get your copy of Eastern Panorama May, June issue @http://www.magzter.com/IN/Hill-Publications/Eastern-Panorama/News/ or mail to contact @easternpanorama.in