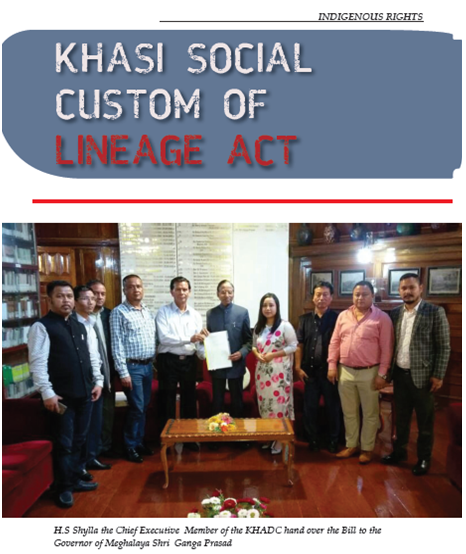 The Khasi Hills Autonomous District (Khasi Social Custom of Lineage) Second Amendment Bill has been sent to the Governor of Meghalaya, with the unanimous support of all the members of the District Council. The Khasi Social Custom of Lineage Bill stated that "It will strip a Khasi woman of her ST status, and all privileges that come with it if she marries a non-Khasi, even the children of a Khasi woman married to a non-Khasi will be "deemed non-Khasis". The idea to pass the Bill was a brainchild of H.S Shylla the new CEM of the KHADC.
The words "Non-Khasi" means a person who does not belong to the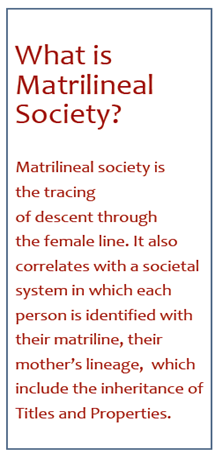 indigenous Khasi Tribe classified as Scheduled Tribe Under the Constitution (Scheduled Tribe) order 1950, (part III-Rules and Order under the Constitution), Part XI- Meghalaya. The reason for passing this Bill was to protect the indigenous Khasis from infiltration by marriage according to the CEM.
This Bill is perhaps one of the most controversial bills ever passed by the Council. No doubt there are few sections of the society who oppose this bill. A survey conducted on the 25th July by the one local TV (T7) shows that 85 percent are in favor of the bill and 15 percent against it.
As expected some of the women living in this matrilineal society have come out and expressed their dissatisfaction with this bill. Patricia Mukhim, journalist, and social activist was the first to object the Bill by saying that the "Bill is highly unconstitutional, patriarchal, bigoted, partial and partisan. It shows KHADC is no different from the 'khap panchayats' in other parts of the country" and hoped that the Governor would reject the bill. Civil Society Women's Organization (CSWO) President Agnes Kharshiing said that they are eager to challenge the gender-biased bill which is a violation of the fundamental right of a tribal woman. The Grand Council of Chiefs of Meghalaya (GCCM) raised questions to the KHADC on what ground did the Council decides to pass the Bill. GCCM Chief John F. Kharshiing said that the Council should provide data's to indicate that non-tribals are marrying Khasi women for benefits. Meghalaya state women's commission chairperson Theilin Phanbuh slammed the KHADC by saying that the council should have arranged for a public debate on the issue before tabling the bill. She added that the bill portrays a gender bias as it talks only about women issues.
Donboklang Wanniang
To read the further article please get your copy of Eastern Panorama August issue @http://www.magzter.com/IN/Hill-Publications/Eastern-Panorama/News/ or mail to contact @easternpanorama.in