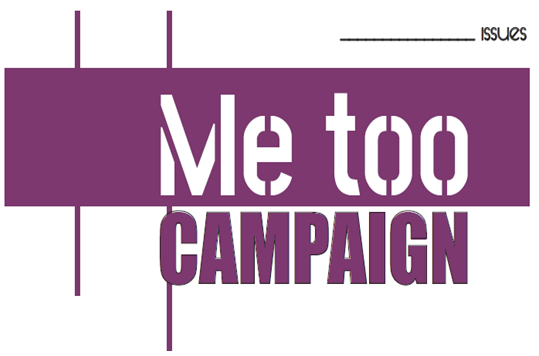 What gained credence over the 'Me Too' campaign was the damaging statement of the journalist Sheila Ramani, when she pointed her accused finger towards the Minister of State for External Affairs and the former journalist M.J. Akbar for molesting her in the name of editing a story for the Daily, edited by Akbar. Not to be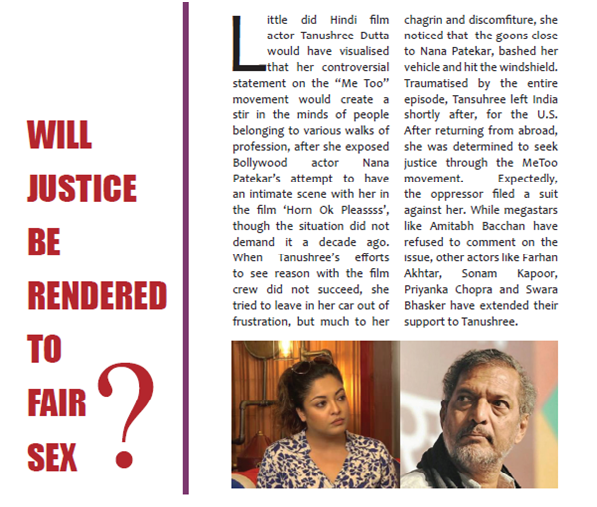 left undone, a few other women journalists, too, indicted him for forcing them to have sexual relationship with him. Though, the minister denied it vehemently, attributing the canards as a malicious propaganda and vitriolic campaign engineered against him in a perpetual, systematic and orchestrated fashion by a section of women journalists to malign his hard-earned reputation, his explanation did not carry much weight or conviction. Left with no other alternative, the crest-fallen minister had to tender his resignation from the Union Cabinet before filing a defamation suit against the concerned journalist for tarnishing his image willfully.
Suparna Sharma, currently the resident editor of The Asian Age in New Delhi, said Akbar had harassed her in the past. Another journalist in Mumbai, who joined The Asian Age in Mumbai in 2004, alleges that she was harassed by Akbar inside and outside the newsroom. "He's extremely schizophrenic. He can be equally brilliant but then there is the other side of him being driven by hormones.

There were no nuances with MJ Akbar. It was sexual harassment through and through," she revealed the nasty occurrences on a condition of anonymity.
Ghazala Wahab, now executive editor at FORCE magazine, has written of repeated molestation at the hands of Akbar in the mid-1990s when he was her editor at Asian Age. Majlie de Puy Kamp, now a New York-based reporter, has spoken of how a decade later he forcibly kissed her, when she was 18 and interning with him.
Akbar's accusation that the MeToo charges have settled upon him because of the coming assembly elections to the five states, as well as the general election next year, has no-takers. Akbar has no political heft and a conspiracy to tarnish him and secure his speedy exit from the Narendra Modi government would have left it none the weaker, argue a section of journalists. Now that he has decided to dig his own grave, the focus cannot but shift to Prime Minister Narendra Modi. The moot point, however is, why Akbar's resignation was not demanded and secured on his return to New Delhi? Surely, the Prime Minister must have found enough time to sift through the charges, take stock of Akbar's alleged misdemeanours and arrive at a decision about his continuance in the Cabinet. By failing to immediately force him to step down, the Prime Minister has sent a confused message about his government's attitude to harassment and the protection of women in workspaces. It looked, as if, Modi appeared to be standing behind Akbar, and will be perceived by many as having failed to honour the dignity of Indian women.
However, the issue took a political turn when sources in the BJP circle say that it is the Prime Minister, who was keen on Akbar's resignation from the cabinet.
Over the years, Akbar founded two more newspapers, The Asian Age and The Sunday Guardian, joined the Bharatiya Janata Party and became the Minister of State for External Affairs, before tendering his resignation over the sensitive issue. However, stories of his approach towards his female colleagues followed him throughout his career. For his male counterparts, his pursuit of women only added to a legend, already burnished with tales of his grandeur. For instance, when Akbar stayed at the Oberoi at Nariman Point, a story went around that the hotel staff made it a point to reserve room 1951, a premier room, with a view of the bay and the same number as the year of his birth. "There were rumours of his affairs, but no one ever complained, so we assumed it was consensual," said a male editor who worked with Akbar.
A few male journalists, who worked with Akbar, recalled the 1980s and 1990s as a time of great bonhomie and equality between male and female journalists. However, women journalists recalled these years differently. To cite an instant, when Nandini Mehta joined the Hindustan Times as weekend editor in 1981, she was shocked to find a used condom on her desk. "I would find one every day, somewhere on my desk, for eight months. And then one day it finally vanished," Nandini remarked with utmost shock and confusion. The newsrooms were not only male-dominated, but also designed for male correspondents, rues Radhika Ramaseshan, a senior political journalist, who recalled, how the first two Bombay newsrooms she worked -- CY Gopinath's Soul Features and Vinod Mehta's Sunday Observer -- were without women's toilets. Funnily, the Indian Newspaper Society building in Delhi, then didn't have a proper women's toilet either. "When we joined, it was drilled into our heads that the newsroom is a gender-neutral space, which we welcomed. But during the course of time, I realised that this was a very convenient way to stop women from complaining against injustice meted out to them. If a colleague or a boss harassed a female colleague, you were expected to accept it as part of the back-slapping, boys' club culture", Radhika lamented.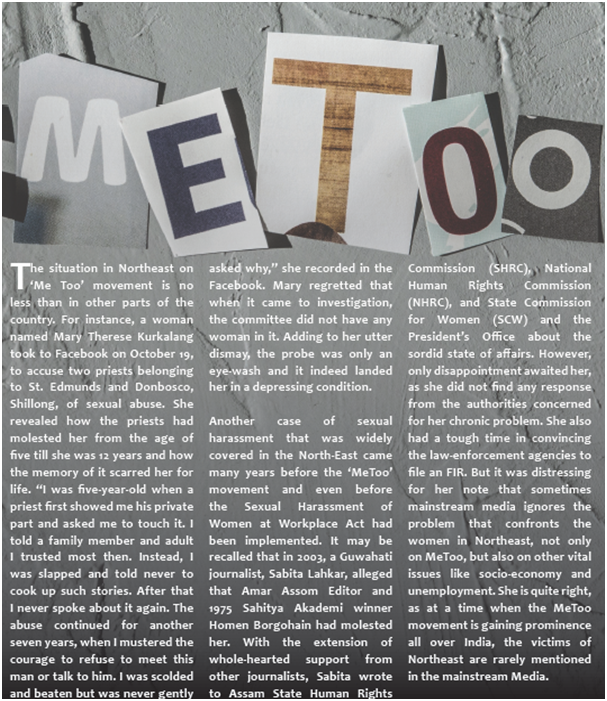 Professor Leki Thungon of Delhi University, who belongs to Arunachal Pradesh, spoke about the MeToo movement and the space of North-Eastern women in it. She said, "The context is much more complex in the North-East, as in these cases, the consequences of reporting is not just losing one's job, but it also means putting your life in danger. The North-East community is close-knit. People identify themselves as part of a community and not individually, so a lot of times when such cases do come out, elders in the community or the clan, sort it out inside the clan itself." Thungon, however, is unable to predict how the stories under MeToo movement will unfold in the North-East and the kind of results it will bear because of the power-structure in the region, which is much different than other parts of the country.
The MeToo campaign need to assert itself, Leki said, before adding that powerful men in the Northeast stand well-connected with higher ups and this enable them to safeguard themselves against allegations of sexual harassment. Women have to suffer in silence and compromise even after the whole community knows about the atrocities perpetuated on her. She went on to add: "I personally have a family member who has been sexually harassed at work and even though she has filed complaints to her Human Resource department, action taken has been lethargic, because of the simple reason that the wrong-doer is a big-shot guy." Obviously, it makes it a herculean task for the victim to seek justice. With the result, many such oppressed women are hesitating to come forward to assist the authorities concerned in booking the bullies.
Activist Ngurang Reena, who is also from Arunachal Pradesh, said that in any movement, the marginalised were treated as lesser mortals. "We have always had stories of sexual abuse, but it is just that we have not found the voice to put it out. So when we put it out, it is always somebody else's burden to initiate it. As women, we are all oppressed," regretted Reena. Talking about whether North-Eastern women will receive similar response as the women in the rest of the country, if more of them come out with their stories, Reena quipped, "The media projection of North-Eastern States is extremely prejudiced. There is so much conjecture around how the women here dress and how we are, that people also ask if it is our right to come out with our stories or not? How media portrays and how people understand our North-Eastern region is very different from other states." She is perhaps right.
Tongam Rina, a Senior Editor with The Arunachal Times, recalls a sexual harassment case in the early 2000, connected with a state department in Itanagar, "An Engineer had molested his colleague, who was a peon in the department. Since both of them belonged to a tribal community, a women's rights group came and settled the case, a common practice in Arunachal Pradesh. People, then, started blaming the victim and maligning her character." The episode sent a clear message to everyone about reporting sexual harassment, Rina noted. Moreover, with decades of militancy-related violence and human rights excesses in the North East region, sexual harassment cases cave in meekly, she added.
In 2012, a Manipuri actor,
Momoko, was molested and assaulted by a Livingstone Anal
,
a leader of the National Socialist Council of Nagaland (Isak Muivah), at a concert in Imphal. When the actor sought the assistance of the security, they reportedly refused, citing that the group was under ceasefire with the government. Grace Jajo, a journalist stationed at Manipur, agrees that context makes all the difference, as in Manipur, every powerful and influential person's proximity to a militant group makes it too risky for people to be a part of the 'MeToo' movement. "Although we admire women who have come out openly against the exploitation of their male colleagues, but we are not only looking at a legal backlash here, but a direct threat to our lives, if we expose ourselves," she explained.
The accusation has often sandwiched between the film and media world. For instance, the Bollywood music composer Anu Malik had to face the ire when two playback singers, Sona Mohapatra and Shweta Pandit have shared their experiences of sexual harassment at the hands of the beleaguered music director. Like M.J. Akbar, Malik too, decided to file a defamation suit against the concerned scribes to extricate himself from dire-straits. However, adding salt to the wound, two more prominent women accused him of maligning them sexually. A woman narrated that

things took an ugly turn, when she met Malik at his residence. "He sat next to me on the sofa. I realised that I was trapped, as his family was not at home then. He then lifted my skirt and dropped his pants. I thought of pushing him and rushing out to the door, but he was too strong for me. Luckily, the doorbell rang at that moment." Not to be left undone, the composer Malik threatened her, and told her not to talk about it with anyone. While dropping her home, he became more aggressive. "It was around 8.30pm when he drove the car into a dark, empty maidan. Scared, I asked him where we were. But he simply unzipped his pants and asked me to lick him. I told him no and urged him to let me go, but he pulled me by my hair and stuffed my face on his lap, hurling abuses." However, the lady luck smiled on her, when a guard approached the car. She took the opportunity to unlock the door and escape. Other victims too stated similar incidents.
To read the further article please get your copy of Eastern Panorama November issue @http://www.magzter.com/IN/Hill-Publications/Eastern-Panorama/News/ or mail to contact @easternpanorama.in