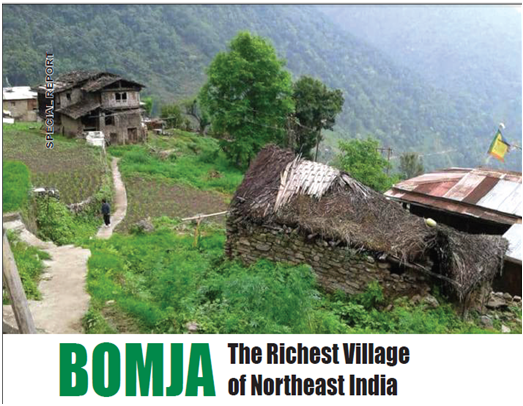 Ever wondered to be rich overnight! Yes the dream has come true for the Bomja villagers in Arunachal Pradesh. Almost all the households that received the payment became crorepatis in a day following the development.
This economic boom for the Bomja villagers resulted for the land acquisition in the area by the Union Ministry of Defence. The ministry has reportedly released payment worth Rs 40,80,38,400. Out of the 31 household, 29 received a land compensation of Rs 1,09,03,813.37 each, while there was one family which received Rs 2,44,97,886.79 and another that received a whopping cost of Rs 6,73,29,925.48 Crores. With this, every family in Bomja village has become a crorepati family. The payment was made by the Defence Ministry to as many as 31 households in the Bomja village as payment towards acquisition of 200.056 acres of land.
The land was acquired by the Indian Army for the purpose of installing Key Location Plan Units of Tawang Garrison. The land acquisition is part of Army's efforts to ramp up its presence in Arunachal Pradesh, especially the western part of the state, to counter Chinese aggression. Arunachal Pradesh Chief Minister Pema Khandu said, that more such compensation in lieu of land acquisition by the Indian Army were under process and that the Central Government is working on the same. He added that with the support from the centre, Arunachal is witnessing rapid development with great focus on connectivity – rail, air, digital and road. He also used the occasion to laud Prime Minister Narendra Modi, citing recent developmental works in the state.
While cherishing this development, we thought of bringing it you some interesting facts regarding the other developed villages of India. While thinking about the village, we always imagine it to be least developed, way behind the cities upgraded lifestyle and sufferings but mind you! The list which we have gathered will add on to the pride about our rural India which is far simpler conserving its traditional culture and authentic lifestyle with grace.
Village is the core of the Indian Society, representing the real India. Let us go through this short journey of the top richest villages in India.
Rashmi Mizar
To read the further article please get your copy of Eastern Panorama March issue @http://www.magzter.com/IN/Hill-Publications/Eastern-Panorama/News/ or mail to contact @easternpanorama.in