Staccato sounds of gunfire reverberating till recently in the still hills of Meghalaya practically have fallen silent. If the decadal trend of militancy is followed with 2008 acting as the base-year, we find the overall security situation in Meghalaya in particular and the North Eastern India as a whole improved substantially.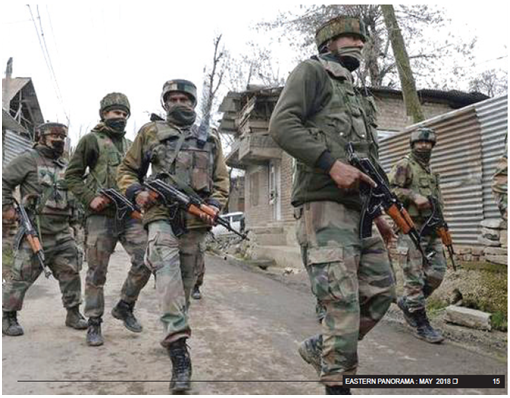 In the opinion of the Union Home Ministry, this meant the state has returned to normalcy. No wonder, the Modi Ministry at the Centre totally withdrew the Armed Forces Special Powers Act (AFSPA) from Meghalaya from March 31, 2018, and partly in Arunachal Pradesh following improvement in security situation in the two states. In Arunachal Pradesh, it would remain effective in three police stations bordering Assam and three districts touching Myanmar.
This augurs well. This is a positive development. It is time for the Central Government to rethink about the continuance of the controversial Armed Forces Special Powers Act (AFSPA) in other states of North Eastern India. We know there had been a series of public outcry to revoke AFSPA in all states of North East India.
The complete withdrawal of AFSPA in Meghalaya and partial in Arunachal Pradesh prove violence has shown its futility and peace its supremacy. In other words, writing on the walls has changed in Meghalaya, Arunachal Pradesh and in other parts of this once troubletorn region of the country in a socio-political sense.
Above all, it will have a very positive impact on the overall economy of the region. The investors now can flock Meghalaya, Arunachal Pradesh and other parts of the region. They will not suffer from the psychosis of fear of extortion by insurgent groups, murders, riots, and kidnapping. Corrugated iron roofs of factories can mushroom now all across North Eastern India. The complete removal of AFSPA certainly would see increased economic activities in rural areas of Meghalaya where people earlier were afraid to come and invest.
In fact, removal of AFSPA in Meghalaya after 27-years of its imposition marks the beginning of a new era, an era of confidence both to local people and those living in other parts of the country. Until September 2017, the Act was effective for 40 percent of Meghalaya including a 20 km area along the Meghalaya-Assam border. Naturally, the complete removal of AFSPA comes as a major relief to the people of the state.
Amlan Home Chowdhury
To read the further article please get your copy of Eastern Panorama March issue @http://www.magzter.com/IN/Hill-Publications/Eastern-Panorama/News/ or mail to contact @easternpanorama.in