Page 1 of 2
2012-The Year That Was
A Raja Jailed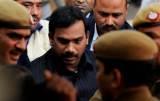 Former Telecom Minister A Raja, who was arrested by the Central Bureau of Investigation for his alleged role in the 2G spectrum scam, had been sent to Delhi's Tihar Jail till March 3.
Raja and Swan Telecom promoter Shahid Balwa were arrested for their alleged involvement in the 2G Spectrum allotment scam.
The two were made to face each other and answer questions relating to the grant of license and undue favours extended to the company during 2008.
Raja was forced to resign from the Union Cabinet last year after the Comptroller and Auditor General of India faulted him for undervaluing spectrum to favour companies who were largely ineligible for 2G spectrum, and added that the government had probably lost Rs.1.76 lakh crore in estimated revenue.
Suresh Kalmadi Jailed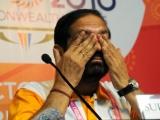 The chairman of the controversial New Delhi Commonwealth Games 2010, Suresh Kalmadi, was arrested on suspicion of criminal conspiracy in the awarding of Games contracts, including a £450,000 deal with a London firm over the staging of the Queens Baton relay and a contract with Swiss Timing.
Kalmadi, joined his two deputies, the secretary general of the organising committee Lalit Bhanot and director general V K Verma and three other Games officials in facing serious fraud charges.
The Central Bureau of Investigation made the arrest after interviewing Kalmadi for the fourth time in three months.
Kanimozhi Jailed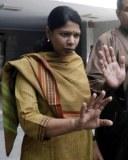 Denied bail by a special court in Delhi, K. Kanimozhi was arrested on the 20th of May 2011. Kanimozhi, a Rajya Sabha member, was denied bail along with Sharad Kumar, managing director of Kalaignar TV, and was moved to jail No. 6 at Delhi's Tihar jail.
The Central Bureau of Investigation (CBI), which was investigating the alleged corruption in the allocation of second-generation (2G) telecom spectrum licences, named Kanimozhi and Kumar in the supplementary chargesheet for conspiring with former telecom minister A. Raja to transfer more than Rs. 200 crore to Kalaignar TV. CBI claimed that the money was a bribe paid by Shahid Balwa, a promoter of DB Realty, in exchange for telecom licences to his company, Swan Telecom.
MP Amar Singh Jailed
High-profile MP Amar Singh was arrested and lodged in Tihar Jail in a sensational twist in the cash-for-vote scam that rocked Parliament three years ago.
55-year-old Singh was denied bail and arrested after Special Judge Sangita Dhingra Sehgal remanded him in judicial custody for 14 days.
The arrest came when the former Samajwadi Party appeared a couple of hours after pleading for exemption from personal appearance on medical grounds but the court was unconvinced and asked him to produce all his medical reports.
The court also rejected bail to former BJP MPs Faggan Singh Kulaste and Mahabir Singh Bhagora, who too appeared before the court responding to its summons for their alleged role in the scam that was seen as an attempt to bribe MPs for their vote in support of the government's confidence motion after the Left parties withdrew support on the nuclear deal.