"MODI-(FICATION)" OF GUJARAT
HIP-HIP HURRAH
Is "NM" Heading for the "Kursi" of PM?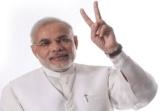 The venue was Sardar Patel Stadium in Ahmedabad!! The date was December 26. Even as the winter chill swept through the national capital New Delhi and other parts of India, the political heat in Gujarat kept the Gujaratis quite warm. The mass-warmth was worth noticing.
And the reason for this warmth? Quite simple!! The reason was that "He" took oath for the fourth consecutive time as Chief Minister of Gujarat. As "He" was taking the oath, "His" supporters sang in unison "Aaj ka CM, 2014 ka PM!"
If the era of winning very tough electoral battles with the real-time mantra of economic growth has dawned in India, Gujarat is really its "test-case".
Yes! The worldly wise Gujaratis have proved that they no-more would allow themselves to be sentimentally blackmailed politically by the worn-out "Bhashans" or high-sounding yet hollow speeches of the leaders of different parties and, of course, their false promises.
Hey Ram! In Gujarat of Mohandas Karamchand Gandhi, the Indian National Congress of Sonia Gandhi got defeated in the polls. That too in the hands of a person portrayed as a demon since the Godhra-episode of 2002? But the "demon" paid a damn to the adverse political mud-slinging and proved himself to be an angel of growth, development, peace and prosperity in Gujarat.
What if he was denied visas to visit England or USA to address the Non Resident Indians?
Would "NM" head for the "Kursi" of "PM"? Whether it is a million or billion dollars question or not yet remains to be answered but one thing is sure: this "NM" in question certainly has kicked off a very interesting "Kissa Kursi Ka"………….. the story of wresting political power.
Do we need to elaborate the acronym of "NM"? Of course not!! Everybody knows that "NM" stands for Narendra Modi and Narendra Mody, in political grapevine, is speculated to be heading for the "Kursi" of ""PM". Is not it an action-packed political story of "Kursi Ka Kissa…."?
Everybody in India knows "NM" (Narendra Modi) is the fittest candidate to be the "PM" (Prime Minister). Despite the very active political vilifications carried out against "NM", the people of the country, by and large, are agog to see him sitting in the "Kursi" of "PM". It is a stubborn-brutal fact!!
MODI VERSUS NITISH KUMAR CONTROVERSY
But hardly anybody in India bothers to know stubborn facts and support them. It had always been the political legacy of we Indians to remain aloof towards the hard-facts.
Electorate in abysmally underdeveloped states like Bihar still are enamoured by the political clap-traps of Nitish Kumar at the present time…….or by that of Laloo Prasad Yadav or Rabri Devi of the past. But Biharis cannot be blamed for that. We inherited the virtue of ignoring hard-facts at the stroke of midnight on August 15, 1947 when "Bharat" was cut asunder with "Hindustan" as India and Pakistan as a "Pak" or pious land of Muslims.
Yet, a section of fast-breeding community acted as a "vote bank" across the nation since the first Lok Sabha polls of 1952. "NM", however, neither relied on this so called "vote bank" in Gandhi's land Gujarat nor did he ever allow the policy of appeasement to overshadow his political actions based on growth.
Ignoring the hard fact had been an ancient British policy and it helped England to tremendously to perpetuate its rule over India. This tremendously suited Lord Louis Mountbatten and a host of other leaders of the political parties who valued "Bhaichara" or fraternity at the cost of slaughtering of their own men. Such political outfits are now paying the price of their pseudo-"patriotism" in the form of most ignominious defeat in the just concluded elections in Gujarat. The defeat of CPM in West Bengal also is one of its best examples.
Where the "Vikas" or growth theory of Bihar's Nitish Kumar flopped, the super-success of "NM's" growth-saga succeeded. While Bihar has curved out its ignominious place in the history as the land of "exporting" both educated and uneducated people in each and every nook and corner of India in search of livelihood, the Gujaratis hardly needs to be leave their state for livelihood as they have all the opportunities there. Gujarat, however, is humming with the people of Nitish Kumar's land. But Gujaratis don't need to go to Bihar.
Incidentally, Nitish Kumar, the chief minister of Mother India's perennially complaining child Bihar, is not at all happy with Narendra Modi's victory. He did not even like "Narendrabhai" campaign for BJP in Bihar. The reason was very simple. It is understandable!! We have to support Nitish Kumar's discomfiture.
How can a media-hyped false "Vikaspurush" like Nitish allow himself to be diminished by the bright sun-light of a time-tested real angel of economic growth like Narendra Modi? We have to stand by Nitish in this regard. If you are an Indian and want to follow the political tradition, you must stand by a false "Vikaspurush".
THE STORY OF "MODI-FIED" GUJARAT
A "Modi"-fied Gujarat, however, tells the other story. The story of poll-victory based on actual achievements of a plain-speaking man rather than on false-promises traditionally made by the politicians, so far.

Yes!! Yes!!! Narendra Damodardas Modi has proved that such traditionally juicy political poll-clap-traps like Satya-Ahimsa-Bhaichara (truth-non-violence and fraternity) may have misled the nation since the first general elections of 1952, but the "eye-wash-business" can work no more in Mahatma Gandhi's Gujarat. The BJP has returned to power with thumping majority.
The younger generation of the brave new world do need "growth and development" not just hollow-empty political slogans that cannot give them employment or a peaceful atmosphere for business. Gujarat people never wanted "Dhamal" (disturbances)……what they traditionally longed for is "Dhanda" or the business. It is a state of politically matured and business-minded people of 60 million.
Gujarat of Modi shows the way: the way to development and growth. A state that shows the need of the hour is economic prosperity and not that of hollow-hackneyed-humorous-hounded-hypocritical political expression like "Bhaichara" (fraternity). Where do "Bhaichara" drop in when certain political parties nurture "Vote Banks"? Modi has proved that without even the support of "Vote Banks", one can win with thumping majority in the polls on the political plank of growth and development.
Let us now concentrate on the poll victory of Narendrabhai and "NM's" future course of journey to the "Kursi" of "PM" rather than on the chief minister Nitish Kumar of India's largest exporter of raw-manpower — Bihar!!!
CAN "NM" DIAGNOSE ILLS OF AILING BJP"?
Modi is having critics and opponents both within BJP, Sangha Parivaar and almost in all other political parties. Nobody can deny this. But the fact that a large number of his party-men and also those in different splinters of the Sangha Parivaar or Saffron Block are nurturing the hope that he can restore the health of BJP at the national level.
They do think that Modi really can restore the image of BJP at pan-India level…… he really can be the poster-boy of the Saffron Block. While a large number of Indian states, including of course Bihar, are groping in darkness, in Gujarat the power supply remains uninterrupted. Production in the industrial sector, naturally, remains robust. Similarly, on the agricultural front also, the food-production remains healthy. Can any other leader, be it BJP, JDU, Congress or any other political parties, win elections even after having been branded as "Communal"? But this economic manager continued to win polls and now being dubbed as a "Positive Storm" who may sweep the electoral "Maha-Youdha" of 2014. Can he restore India's economic health the way he restored that of Gujarat?
Gujarat has already been "Modi-fied"!! Should not rest of India see "Modi-fication"?
"HINDI" SPEECH? WE NEED TO READ BETWEEN THE LINES
The BJP supporters chanted "PM, PM" at his victory speech. Nothing new about it as supporters of all leaders want their icon to sit in the "Kursi" of PM. This is not at all surprising.
What, however, surprises all is his speech not in Gujarati (as he always deed) but in the national language Hindi. The political observers here feel that was a subtle "hint" that Modi wanted to give to the nation that he may soon plunge into the national politics. The political grapevine in Gujarat has it that he made a very intelligent attempt to convey to the people that he would certainly try to tell to his supporters "Chalo Dilli"…… or rather, "Dilli Abhi Door Nahi….." It was in 2001 that Modi first came to power in Gujarat. He also won the polls in 2002 and again in 2007.
Modi, already admired by Indian and foreign corporate barons, attracted Tata Motors and Ford Motors set up their units in Gujarat. Whenever we talk of Tata Motors, the name that comes to our lips happened to be that of "Didi" Mamata Banerjee of West Bengal. Due to "Didi's Dadari," Tatas did "Tata-bye-bye" (as Bengalis say while leaving a place, waiving their hands) to West Bengal and came to the safe haven of Gujarat.
WHY MODI AS MANAGER OF BJP?
Modi, certainly, will face tough resistance from a section of BJP leadership if wants to become the party's supreme manager. Right at the moment, BJP is suffering from internal problems as much as Congress. A large number of leaders are apprehensive that it "Narendrabhai" takes over the helm of affairs of party, their importance would get \diminished.
However, the most pertinent question is: can any other BJP leader equal him in political astuteness and in leading the party to victory in the teeth of all oppositions by different other political parties and against all the adverse campaigns? Perhaps No!!
Vote-chunks of BJP are sliding fast. What the party needs most is a economic CEO and not just a demigod of "Bhashan" or empty speeches. Moreover, the middle class, lower middle class and downtrodden have already started eyeing Modi as their saviour. Naturally, the issue of Modi as the BJP's national poster-boy becomes very important.
To win the elections at the national level to form the ministry at the Centre requires the support of vote banks and "Yes" to BJP or Saffron Block at the polling booths by the non-Hindu voters who compose nearly 18 percent to 20 percent of the overall populace. After the victory of Congress in Himachal Pradesh and poor show by BJP, it remains to be seen if Modi can effectively use his magic-wand.
Unless they have a massive change of heart, the minority in India are unlikely to support a national government under the banner of Saffron Block. They, by and large, seems to be less enamoured by the prospect of growth and continue to be misled by slogans of "Bhaichara". If this particular slogan would have rescued them from the abject poverty, they would have become a very prosperous community as a whole by this time. But what to do? The long slogan of "Bhaichara" had been continuing since the first Lok Sabha polls of 1952: 1952 and 2012 — really, 60-years are long enough to divert their love for the term "Bhaichara" to the gut issues of employment, education and alleviation of poverty.
Let the sense of strong governance, job creation, peaceful business atmosphere, availability of "Roti-Kapda aur Makan" prevail upon the voting-sense of masses of Hindustan.
By Amlan Home Chowdhury