BTC FOR PEACE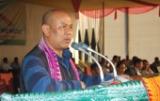 The second Annual Convention of the Bodo National Conference a conglomeration of 31 different organizations of Bodos and other communities of Assam was held recently at Kokrajhar, in which large numbers of delegates from 24 different organizations took active part. The President of the organization BNC Hagrama Mohilary, who is also the Chief of BTC said that the aim of BNC was to establish peace, unity and progress among all sections of the society in the region and the organization is working hard to achieve this Noble mission. He however said that, the Government tried to malign the image of the Bodos by branding them to be an extremist and cruel community after the recent spate of violence. He further said and quoted, "we the Bodo people are not against the interest of any community in the state and did not oppose the separate Kamatapur state demand of the Koch-Rajbongshi community and other indigenous people of the region". However he questioned that Bodos are not willing to tolerate negligence and injustice that are being done with their community. He also regretted the ongoing extortion, kidnapping and killing in the BTC area and said that it must be stopped once and for all. In a significant statement he flatly rejected the directives of the Governor of Assam Mr. Janaki Ballav Patnaik who asked the BTC authorities to resettle all the displaced people on the basis of BTC voter list of 2011. He said that the directives was unconstitutional and undemocratic, as the Government of India has given reply in black and white to a question of elected parliamentarian about the presence of Bangladeshis in BTC and the Council has also been saying that the genuine Indian citizen would be rehabilitated but the illegal immigrants would not be allowed to resettle. He said "We are the owner of this land and BTC is the authority to take decision on land issue".
The meeting which was anchored by the Chief Convener and Deputy Chief of BTC Kampa Borgoyary also addressed by the President of the Bodo Sahitya Sabha (BSS) Dr Kameswar Brahma and State Transport Minister Chandan Brahma. Earlier, BNC President Hagrama Mohilary hoisted the flag of the organization in the morning. He also paid homage at the statue of Bodofa Upendra Nath Brahma in front of BTC Secretariat while former Agriculture Minister and present MLA Pramila Rani Brahma paid homage to the martyrs of Bodoland.
A cultural rally was also brought out in Kokrajhar town where the cultural troupes of different communities took part. The cultural rally which was flagged off by the Secretary of the Reception Committee and BTC EM Derhasat Basumatary was led by the President of the Dularai Boro Harimu Afat (DBHA) Billa Kr Brahma.
Reeta Kamble