"The first move is always an advantage" - Linggi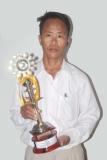 Age is no bar for Chess. One of top seeded of the game and a five times state champion, Bharat Linggi (51 years) nicknamed as Chaina, born during the Chinese aggression of 1962 is an international first and highest rated player of Arunachal Pradesh according to World Chess Federation (Federation Internationale des Echecs, known as FIDE). He was in Itanagar to participate in the 4th State Level Chess Tournament 2012. He regained the title defeating defending champion Mr Gapor Dupit in a straight set.
Linggi is an epitome of hard work and dedication to chess for our whole generation. He's consistent and very strict with himself.
His playing style, for me, is dynamic. He loves sharp lines where each move counts. He has a feel for the initiative. He grasps very well, on his fingertips, what you can get away with in complications, and what you can't. Of course he's a remarkable openings expert. He's personally plumbed the depths of some set-ups. You can learn openings fromhis games. Linggi doesn't cut corners and he hardly ever bluffs. If he adopts something – then there's serious analysis to back it up.

He continues to work seriously on his chess – when almost all of his contemporaries have long ceased to do so. He follows a fitness regime, plays sport, does everything correctly. While most of his contemporaries behave like normal people, Linggi continues to motivate himself to excel in the game he most loves.
Mr Meheta Umpo, proud relative of Bharat Linggi, said that he was very happy to see someone like Linggi representing from a remote village of Lower Dibang Valley district in a state level championship thereby bringing glory for the entire community of Idu-Mishmi and of the entire region.
Good-natured, well-mannered, intelligent, a pleasant man to know. He values his colleagues, which is something you rarely find.
1 point or ½ points can make a big difference in the crucial match
In this interview with Bharat Lingii, he tells us about the importance of daily physical exercise for the chess players, his views on modification of draw rules, cheating at high-level tournaments, computer chess programs, how children can manage the balance of both academics as well as chess. Chow Bilaseng Namchoom (CBN) interviewed Linggi after his recent championship triumph conducted in Itanagar.
Excerpts from an hour long conversation with Linggi.
CBN: Congratulations for winning the 4th State Level Chess Tournament 2012, you performed very well. You must be very happy with your performances.
Bharal Linggi (BL): Thank you very much. Of course I am very happy. It was a crucial match. Defeat at this juncture would not place me to top 5. 1 point or ½ points can make a big difference in the crucial match. The game was of only 9 rounds, draw at this time would have placed me to third or fourth position but winning it in straight set has ensured me my winning moment.
CBN: Could you tell us a little about your background and what first drew you to chess?
BL: I belong to Idu-Mishmi tribe of Lower Dibang Valley. During my childhood I was not acquainted to chess game and also there was nobody to teach chess. So, I tried to master myself in many different games like football, badminton and table tennis but I found myself that I was not fit to play all this game. During my matriculation, I lost my hearing ability and when I was in Madras for my treatment, a man who was the Officer of Vivekananda Kedra Vidyalaya presented me with a chess board and a book which enthused me to take up this game of chess.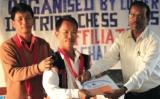 CBN: Do you think daily physical exercise can help a chess player to increase brain's ability to concentrate, remember, focus, visualize, and plan ahead? Could you tell our readers about your views on importance of physical fitness + chess.
BL: In chess a small mistake can cost you the game. If you are tired then you make errors in calculations. I exercise daily for 10 to 12 hours and it helps me concentrate longer. Especially when you play a tough tournament you need to conserve energy for the last rounds.
CBN: Do you consider the possibility of cheating at high-level tournaments as a serious problem? What measures would you suggest to reduce such a possibility?
BL: More than cheating, the thought that someone could cheat is more serious. Even support staff should be prohibited from going on stage or into the player's area before the game. They should also not be allowed to enter the playing hall and leave and re-enter during a game. But in today's time where a mobile phone is more than enough to cheat we need to take these steps. Delay in transmission is one step.
CBN: How old were you when you learned to play chess? When did you represent your state?
BL: As like other village children I went to study in Class I when I was 10 or 11 years old. As I mentioned earlier, when I was doing my matriculation my urge to play the game developed. But it was in the year 1989 when I played my first game of chess at national level in Calicut. We were three players representing our state in the national level. Mr K.Mena and Mr. Z. Dai both also International Rated Player played along with me in the national level.
CBN: Do you have a favorite opening? Why is it interesting?
BL: e4 King-Pawn opening, it is interesting as whatever my opponent sets the square I can easily break its combination through this opening.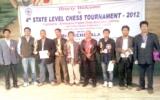 CBN: In order to become a good chess player do you have to have natural talent – or is hard work enough?
BL: It's a very interesting question, absolutely, of course, unexplored. But then, how would you explore it? What is talent? And what level of "good chess player" are we talking about? I think that practically anyone, if they set themselves the goal of becoming a good player and work hard and consistently can achieve that goal, as long as they can organize their work well. But in order to become a top-class player – then, of course, you need a combination of many qualities – talent, and work, and an effective approach to work, and energy and a tough nervous system. So to say, natural talent will widen only when you put your nervous system to work and exercise.
CBN: Who, in your opinion, was the strongest opponent in this tournament?
BL: At the penultimate round i.e. at the 8th round, it was Mr Raluk Dui also an international rated player, who defeated me last year; this time too he gave me a tough fight. He played brilliantly then and plays brilliantly now.
High time for the authority concern to give proper recognition to game of chess
CBN: Do you find that in a particular tournament situation against a particular opponent you would choose (if, hypothetically, you had the choice) the black pieces instead of the white, or is the right to start always an advantage?
BL: Overall the right to make the first move is always an advantage. With some opponents it has more significance, while with others – less. The drawing of lots at a tournament is always quite important. Sometimes you get white with a player who aims for a complex game with white while not trying to set particular opening problems. And you get black against a white specialist. But if it's just in one game then I'd always prefer to have white.
CBN: Which playing factors will the "old" generation try to use in order not to concede its positions to the "youngsters"?
BL: There are common factors – understanding, experience, the ability to work effectively. But all of us have our own style and approach to the game, our trademark qualities. The young players have to grasp which factors they can use to squeeze us out, which characteristics they need to develop. They'll have to put in a huge amount of work to develop those qualities and continue to progress.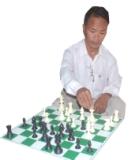 CBN: Is there any promising chess star in Arunachal Pradesh? Who would you point to as a potential player in the coming years?
BL: Mr Nabam Kayang of Papumpare and Tachung Dupit of Upper Subansiri both have already developed as players of the highest level. Both have got all the requirements to get in the next few years. Again I really hope that it works out for them. Mr Nabam Kayang challenged me that in the next session he would prepare himself thoroughly to defeat me.
CBN: What is the shortcoming in a state like Arunachal where chess game hasn't been given a proper recognition?
BL: Under All Arunachal Pradesh Chess Association (AAPCA), game of chess has gain a momentum in state, for last 5 years organization has conducted chess tournament at various level and many players from different districts are brought under one roof of AAPCA to participate for state at national and international level. Now, under the initiative of AAPCA 2014 North East Chess Championship (NECC) will be held in our state and it is a matter of great pride for all of us. The 2013 NECC will be held at Imphal, Manipur, where our international rated player from state will compete and vie for the top seed. Sponsorship is the main concern for the players of our state. At a time, I spend my own money to get affiliated to play game of chess. It is high time for the authority concern to give proper recognition to game of chess, which will surely bring glory for our prudent state.
Young players have to grasp which factors they can use to squeeze us out, which characteristics they need to develop
CBN: And who had the greatest influence on your achievements in chess?
BL: Well, that's hard to say. There are many to whom I awe my gratitude. First of all, it is Mr Akene Linggi who provides me financial support. President and ex-president of AAPCA who are the guiding force behind my success. They are also two pillars of success for game of chess in a state like ours. Their motivation inspired the players to opt chess as a game.
CBN: Thanks Linggi.
It's been good talking to you. We wish you all the best!
Chow Bilaseng Namchoom