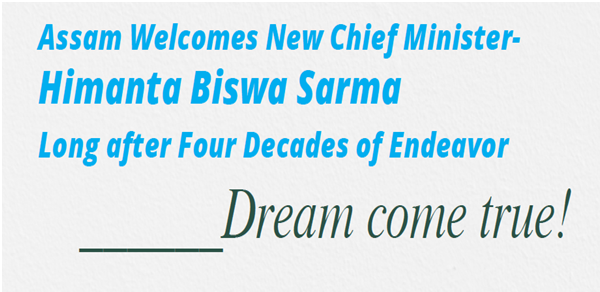 It was a dream come true for the BJP leader, who had aimed for the post long ago. Himanta Biswa Sarma Sarma, who is also the convenor of the North East Democratic Alliance, became the Chief Minister for the first time and was officially sworn-in as the 15th Chief Minister of Assam administered the oath by Governor JagdishMukhi on 10 May. The newly-elected Chief Minister began his day by offering prayers at DoulGobinda Temple and Kamakhya Temple and sought the blessings of the people of his constituency Jalukbari.
Several Chief Ministers of Northeastern states attended the swearing-in ceremony of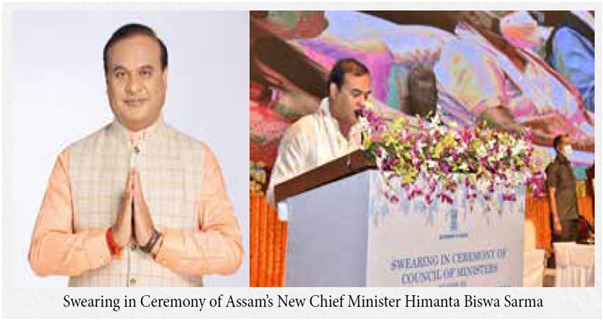 Assam Chief Minister HimantaBiswaSarma. Those present included Chief Minister of Tripura Biplab Deb, Meghalaya's Conrad Sangma, Manipur's M N Biren Singh, and Nagaland's Neiphiu Rio. Apart from that, the former state Chief Minister Sarbananda Sonowal was also present.
He was elected unanimously by the BJP Legislature Party to become the Chief Minister of Assam. The minister's popularity has been the key in the National Democratic Alliance's victory in the Assembly polls in Assam with the alliance returning to power overcoming the stiff challenge posed by the Congress-led alliance.
BJP-led NDA secured a comfortable majority in Assam winning 75 seats of the total 126 constituencies. While BJP secured 60 seats, about 33 per cent, its allies AsomGanaParishad (AGP) and United People's Party, Liberal (UPPL) bagged nine and six seats respectively.
Known to have played a pivotal role in the BJP's growing footprint in the Northeast, Sarma left the Congress in 2015 despite being close to Chief Minister Tarun Gogoi as he felt sidelined.
It should have been a natural progression of his political journey, which began in the 1980s as a teenager. Over the years, been personally groomed by three Chief Ministers of Assam—Prafulla Kumar Mahanta of the Asom Gana Parishad (AGP), Hiteswar Saikia and Tarun Gogoi of the Congress. Yet, today he is neither an AGP nor a Congress Chief Minister. His coronation was done by the BJP, a party he joined six years ago after defecting from the Congress.
Earlier-
Born to Kailash Nath Sarma and Mrinalinin Devi on February 1, 1969 in Jorhat, Himanta's schooling took place at Natun Saraniya Prathamik Bidyalay, Gandhibasti in Guwahati and he later went to Kamrup Academy in the city. He completed his graduation from Cotton College and post-graduation from Gauhati University. He holds a masters degree in Political Science and has also done an LLB, and a PhD on the topic of North Eastern Council: A Structural and Functional Analysis.
Himanta Biswa Sarma started his political career very early with All Assam Students' Union (AASU). He delivered his debutant speech at an AASU rally in Patacharkuchi in 1979. He was elected to the body of Kamrup Academy as the Assistant General Secretary for the first time in 1982-83. This was the first election he ever won. In his final year of high school, in 1984-85, Sarma was elected student body's General Secretary.
In 1987-88, Himanta became AGS in the Cotton Candy Students' Union and went on to become the GS thrice in 1988-89, 89-90 and 91-92. This is a record still in his name.
In 1994, he joined the Advisory Committee for Students and Youth Welfare as member secretary. Around that time, the 25-year-old Himanta Biswa Sarma joined the Congress and went on to contest elections from Jalukbari LAC in 1996, in which he lost.
To read the further articles please get your copy of Eastern Panorama May, June issue @http://www.magzter.com/IN/Hill-Publications/Eastern-Panorama/News/ or mail to contact @easternpanorama.in