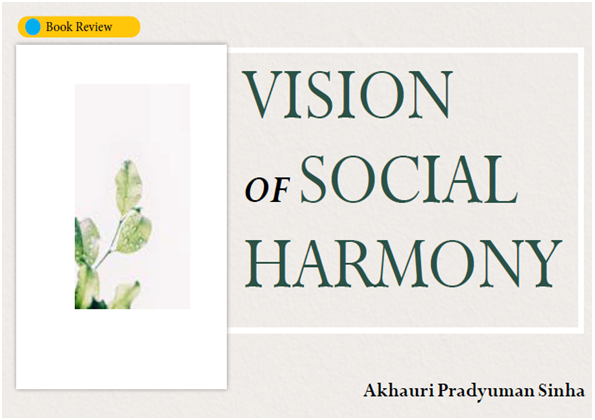 It has a collection of fifty articles some of which were actually delivered as speeches but the main underlying theme that binds these is Narendra Modi's vision of social harmony. Most of these essays were written or spoken a long time back but the recurrent theme even now is extremely relevant: how to establish harmony and how to make our life profoundly peaceful and prosperous.
My review begins with the last chapter comprising Modi's evaluation of his own writings. He frankly admits, "In my inner self flows an eternal and continuous stream of dialogues and this book is just a tiny glimpse of that". In fact the writer is passionate about social harmony which will be a vital force, dynamic enough to usher in an era of happiness in our country. Modi further writes that equality is just a stopover. It is not the final goal...if harmony is made the final goal of community then all problems can be eradicated. Social harmony should not be confined to mere caste and faith. How succinctly he observes, "Don't look at the book rather look at the fragmented society around you". He concludes, "Let us tread the path of Buddha in order to unite the society, this effort will energise us to ultimately unite". These are the words of Modi which act as the leitmotif of all the essays. The book is indeed a cognitive persona of the writer.
It has a preface written by K S Sudershan. He pertinently observes that the evil powers have become more powerful and are constantly disrupting our social harmony. He very significantly says, "Our task is to overcome these forces and take society to the highest echelons of prosperity". There is also an article by Kishor Makwana, the editor, in which he highlights the theme of social responsibility which has always inspired and guided Modiji.
Makwana begins by citing an incident from Modi's life when he was a student of class eight. It points out how he was profoundly and passionately concerned with equality even at the tender age of 12. Certainly morning shows the day. Since then, Modi has always been sensitive to equality and uplift of the poor. That passion still burns in his heart. The journey from Vadnagar to New Delhi has passed through difficult terrains, insipid valleys, faced inclement weather yet he continues marching forward, no turning back and ever busy translating his visions into reality. This is our Narendra Modi and the following lines truly represent Modi's character, his passions and his social philosophy of a better world. These are the summum bonum of his life. "True development is that which brings the fruits of happiness even to the last person in the remotest backward area", Modiji emphatically writes in one of the articles.
Let us start with the first article and it is on Dr Babasaheb Ambedkar.
To read the further articles please get your copy of Eastern Panorama November issue @http://www.magzter.com/IN/Hill-Publications/Eastern-Panorama/News/ or mail to contact @easternpanorama.in