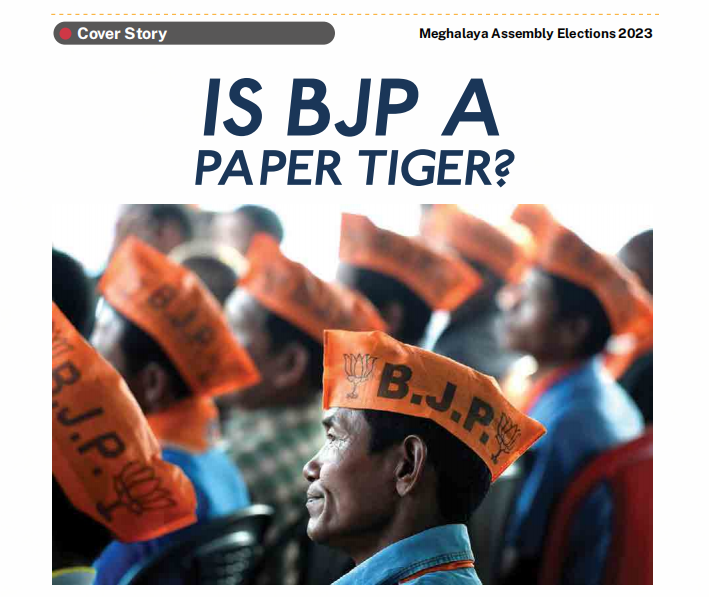 Is BJP a Paper Tiger? Perhaps, no more. In the last election 2018, the BJP contested in 47 seats and won only 2. With 9.7% vote share, the party made its presence felt in the state of Meghalaya. 7 of its candidates were runners up and 8 of them were in the third position. This is so, when the party has not sincerely fought the elections in 2018. The situation in 2023 will be different as they will fight the elections at their best. As this is evident from the PM visit at NEC Golden Jubilee celebration on December 18, 2022, in which Mr. Modi spoke in election language and practically launched BJP campaign.
The moral of the party workers appear to be all time high as the party has created a record of defeating anti-incumbency in the state of Gujarat by a record victory, which has surpassed all previous records. The BJP is the part of MDA government and one of their MLA has a cabinet birth. In spite of this, the relationship between MDA and BJP is not cordial. The issue of corruption was raised time and again by them. The arrest of the Vice President of BJP Mr. Bernard N. Marak has soured the relationship between the BJP and its main allies NPP. The recent migration of one sitting MLA and three former MLA's to the party has added to their strength. They are Bendit R. Marak, Ferlin CA Sangma of NPP, Mr. H.M Shangpliang of TMC and Samuel Sangma, Independent. More MLA's and some ministers of the ruling party are also said to have campaigning in New Delhi to fix its terms to migration. On the other hand, Mr.Earnest Mawrie, who is the President of Meghalaya BJP is doing what is necessary to appease the majority. He has already announced that if BJP comes to power than the ILP for Meghalaya will be implemented. Meghalaya is not an isolated state and road communication between Tripura, Mizoram and Barak Valley of Assam still depends on National Highway, which passes through Meghalaya. Hence a difficult proposition, yet Local BJP agreed to it, if it comes to power. A general impression is also being created that if BJP comes to power, it will bring development for the people. Well, before elections, promises are common. After elections, things are different.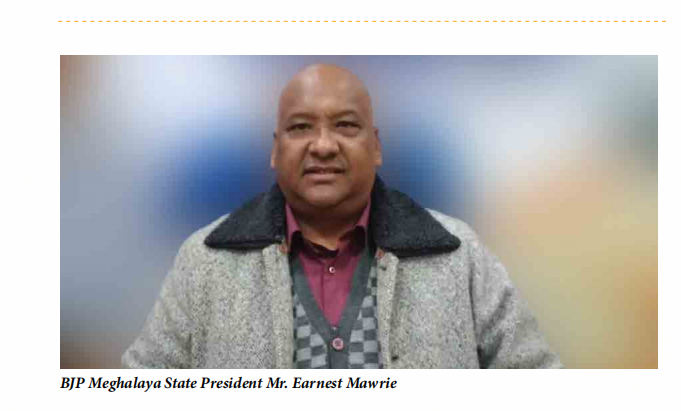 Eastern Panorama met the President of BJP Meghalaya Mr. Earnest Mawrie, a well known name in the political circle and has backing of RSS to understand their perspective. Here are the excerpts:
1. What do you think is the prospect of BJP coming to power in Meghalaya?
To read the further articles please get your copy of Eastern Panorama January issue or mail to contact.easternpanorama@gmail.com