All India Trinamool Congress is an active player in 2023 election, even though it had only 0.4% vote share in 2018 Meghalaya Legislative Assembly. Yet, the party seems to be in an active mode. The presence of Mamata Banerjee, the President of AITC and the Chief Minister of West Bengal was recently at Shillong to boost the morale of its party workers. Former Chief Minister of Meghalaya Dr. Mukul sangma and former speaker of Meghalaya Legislative Assembly Mr. Charles Pyngrope are with AITC.
They are on active mode and PR agency has been hired by them. Meetings and organizational base is being strengthened. Their presence in the social media and publicity campaign is very well built. In spite of being the main opposition party in the state of Meghalaya, it has many reasons to worry.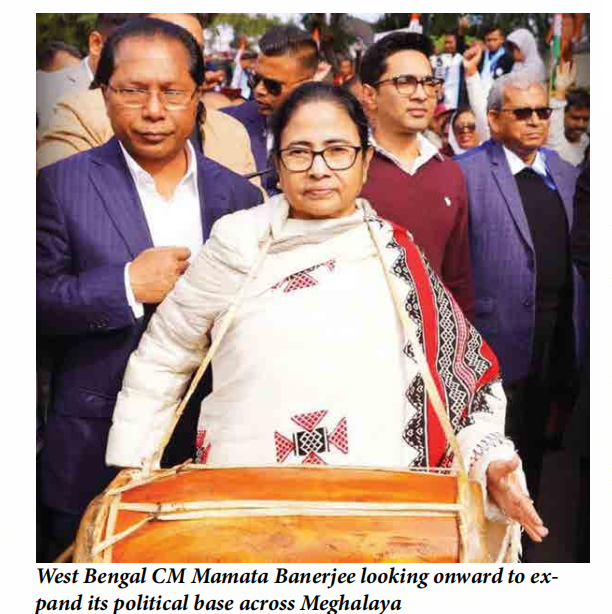 l Firstly, the party is new in the state.
l Secondly, AITC is seen as regional party from Kolkata (even though it is a national party).
l Thirdly, when the choice comes between AITC, UPD and HSPDP, people may prefer their own regional party.
It is to be noted that collectively in the last assembly election, the regional party in Meghalaya got almost 27% votes. Hence, it is not very clear as to what extent AITC will be successful. The election will have many surprises. AITC is also playing the women card politics and assured that if they will come to power, it will give Rs 1000 to all above 18 years old for which they have launched 'WE Card' and so far more than 2 lakh women in Meghalaya has registered with AITC as per the press statement made by the I-PAC. If this is correct than it might bring surprises in the election results as there are only 21 lakh voters in the state of Meghalaya.
To understand AITC better, Eastern Panorama tried its level best to contact AITC through their authorised representative I-PAC and also the President, however, they have not responded and our efforts to their point of view remained futile.
To read the further articles please get your copy of Eastern Panorama January issue or mail to contact.easternpanorama@gmail.com