PDF boost its popularity in the State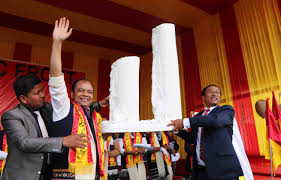 People Democratic Front (PDF) leader, P.N. Syiem said the PDF required no support from others including the BJP in the upcoming Assembly polls. Speaking during the bike rally Syiem said when I did not succumb to the dictatorial style of functioning of the Chief Minister, Mukul Sangma, how you do expect me to succumb to the BJP. We have started on our own, and we have our own issues and agendas," Syiem, who is the CEM of the KHADC, claimed that he still survived as CEM till date despite having been suspended by the Congress for three years.
The PDF leader also claimed that the PDF is more popular in rural areas of Khasi-Jaintia Hills region than any other political parties, though it was formed only recently. Stating that the National People's Party (NPP) is also popular, Syiem however said, "It is popular only because heavyweights joined its fold.