BJP "charge sheet" against Meghalaya Congress Govt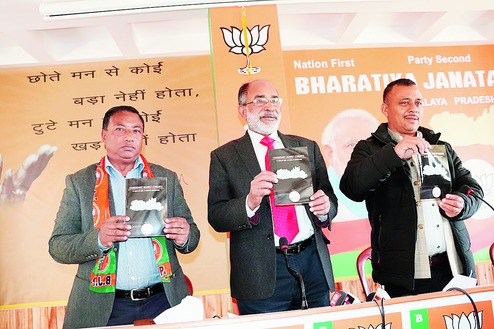 The Meghalaya BJP has come up with a "charge sheet" against the Congress Government of the State. Union Minister of Tourism Alphons Kannanthanam releases a booklet containing around 30 points in sector wise during a Press Conference at the BJP office in Shillong. While presenting the charge sheets Alphons lashed out to the Congress-led Government claiming it has fail in every sector in bringing development in the State.
The charge sheets highlighted the failures of the Congress-led government in the state in the past decade while naming various scams that surfaced in different sectors like education, health, and infrastructure the charge sheet also mentions issues such as the boundary dispute, child labour, corruption, militancy, and power crisis. Apart from highlighting the failures of the Congress regime the charge sheets also present the report card of the Congress and its unfulfilled promises made in 2013.
Giving a status report of the Congress' 2013 manifesto, the Union Minister said all the promises made by the Congress including the promise of 10,000 jobs to the youths and 10,000 jobs for women were also marked "undelivered".