Charlie Sheen Wants Mila Kunis

Apparently Charlie Sheen watched Black Swan recently because now he can't shut up about making Mila Kunis one of his goddesses. Also, cocaine makes you a delusional egomaniac. Probably should point that out, too. RadarOnline reports:
"Here's the good news – my goddesses have already f**king approved her. She's pre-approved!" Sheen said. "I would have great tolerance for many missing items provided it involves Mila f**king Kunis: If Mila Kunis is stealing your s**t , trust me, you're still f**king winning, you're still winning at that moment.
"I'm going to go on her Facebook page and discover her likes… I'm going to buy them all and then she can come steal them. A super f**king hot thief named Mila Kunis. Mila, please, we we have a warehouse full of your favorite s**t to steal."
It really says a lot about Charlie's relationship with his goddesses that his first reaction to bringing Mila onboard is he won't care if she steals his shit. Clearly these chicks are robbing him blind and there's nothing he can do about it because how else is he going to get laid? Go on dates? AHAHAHAHA! You can't pull a knife at Olive Garden. He's tried.
Elizabeth Hurley Files for Divorce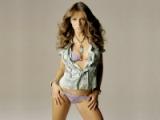 Elizabeth Hurley filed for divorce from Arun Nayar, her husband of four years, on Friday, according to the U.K.'s Daily Mail.
In papers filed in London's High Court, the Estee Lauder spokesmodel reportedly blamed Nayar's "unreasonable behavior" for the split, though it was Hurley's own behavior that grabbed headlines in December, when photos emerged of her kissing Australian cricket star Shane Warne outside a London restaurant.
At the time, the model-actress took to Twitter to explain: "For the record, my husband Arun and I separated a few months ago. Our close friends & family were aware of this."
Warne, with whom Hurley, 45, had been exchanging flirtatious Tweets, issued a similar statement soon after.
Hurley, who was recently in Los Angeles filming a role for the upcoming TV Wonder Woman reboot and is expected to headline several high profile events in New York in the coming weeks, spoke out on Twitter again to dispel rumors she is marrying Warne.
"Apparently I'm getting married & moving to Australia," she Tweeted earlier in the week. "Wow, my fictional tabloid life is exciting! Breathlessly awaiting next installment..."
Reps for Hurley were not immediately available for comment.