They are Seven Sisters. And all are ace archers. Are they the reincarnations of Chitrangada, an epic Mahabharata lead role and wife of the supreme marksman Arjuna?
Something to wonder at the lingering of tradition! Is not it?
Sometimes in some corners of India, we find the strange continuance of traditions of ancient legends and mythology. The Seven Sisters is one of them.
On exercising our brain a little, we can realize this strange fact in the case of Assam, Arunachal Pradesh, Meghalaya, Manipur, Mizoram, Nagaland and Tripura. They all are strongly connected with archery mirroring mythology, the epics and history.
To understand this interesting history, we have to first take up her story:

Chitrangada of Manipur.
When A Symbolic Gesture Speaks……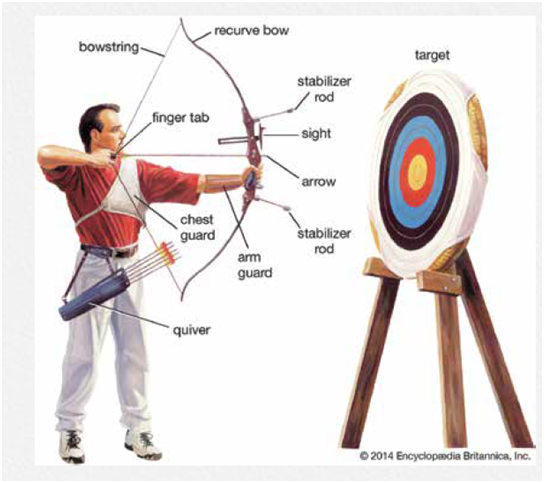 For centuries together, archery remained the primary tool for hunting, self-defence, wars and martial sport in the Northeast India like any other parts of India. Over the decades, it ceased to remain a sport in most parts of India but continued in the Northeast.
This continuation part of archery in the Seven Sisters Zone is very encouraging. The region has already stamped its thumping presence in the international archery competitions. Some have also been honored by the Arjuna Award of the Government of India.
Here, a recent gesture by political leaders of the Northeast brightens the scope of further boosting of archery as a sport in Assam, Arunachal Pradesh, Meghalaya, Manipur, Mizoram, Nagaland, Tripura and Sikkim.
In a positive development, the Union Minister Kiren Rijjiju and the Chief Ministers of Arunachal Pradesh and Meghalaya, Pema Khandu and Conrad Sangma respectively, tried their skills in archery.
Recently, they sported bows and arrows to try their hands in archery at Gyankhar Village in Arunachal Pradesh. This shows their attitude towards promoting archery and traditional sports of the Northeast India.
In fact, if the Central Government and the states of Northeast puts in their efforts together, it certainly can pave the way of promoting international tourism of this region.
In such countries as Bhutan (archery national sport), South Korea, the USA, Japan, France and Italy, archery competitions are held and such occasions act as tourist-pullers.
The Northeast India also can take a cue out of these countries to promote the archery tourism. Besides, the states of Northeast also can attract tourists from all over the world developing places that are associated with legends and epics in connection with archery.
At the same time, the villages where the tribal people make their bows, slings and arrows in traditional style can also be developed as hamlets of archers. The tourists would certainly like to visit such squat-little picturesque hamlets.
The relics of such warriors and historical places associated with those who used bow and arrows against the invaders and foreign powers can certainly be developed as tourist spots with annual archery competition taking place.
Take the case of Lachit Borphukan, an ace archer and military captain of Assam who defeated the Mughal Army at the Battle of Saraighat in 1671.
Take the Khasi rebellion of Meghalaya led by Tirot Sing or U Tirot Sing Syiem in 1829. The Khasis fought most courageously with their traditional weapon of bows and arrows.
The Non Resident Indians certainly would love to come to such historical tourist spots with their children to educate them with their glorious past.
To read the further articles please get your copy of Eastern Panorama March issue @http://www.magzter.com/IN/Hill-Publications/Eastern-Panorama/News/ or mail to contact @easternpanorama.in