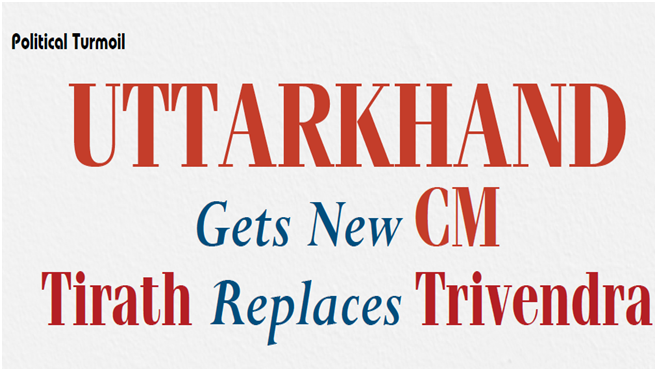 Uttarakhand has recently come into limelight for its political instability. Well it has been going on since two decades where a politician has occupied the chief Ministerial post for the ninth time.
Uttarakhand Governor Baby Rani Maurya administered the oath of office and secrecy to the new ministers at Raj Bhawan. Tirath Singh Rawat was sworn-in as the Uttarakhand Chief Minister on 10 March 2021.
The 56-year-old MP from Pauri replaced Trivendra Singh Rawat who stepped down from the post. Tirath was chosen over prominent candidates like Union Ministers Ramesh Pokhriyal Nishank, Dhan Singh Rawat, Satpal Maharaj and others.
Uttarakhand, formerly Uttaranchal, state of India, is located in the northwestern part of the country. It is bordered to the northwest by the Indian state of Himachal Pradesh, to the northeast by the Tibet Autonomous Region of China, to the southeast by Nepal, and to the south and southwest by the Indian state of Uttar Pradesh. Its capital is the northwestern city of Dehra Dun. On November 9, 2000, the state of Uttaranchal—the 27th state of India—was carved out of Uttar Pradesh, and in January 2007, the new state changed its name to Uttarakhand, meaning "northern region," which was the traditional name for the area.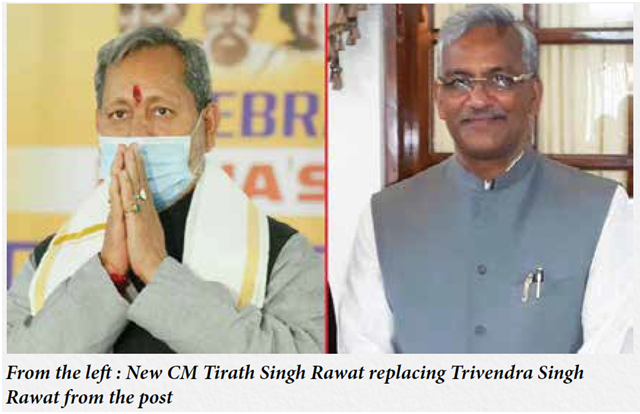 Who is Tirath Singh Rawat?
Tirath began as a Rashtriya Swayamsevak Sangh (RSS) worker, served as pracharak and went to hold key positions in ABVP. Former Prime Minister Atal Bihari Vajpayee in Pauri and senior leaders, like Kalyan Singh and Kalraj Mishha, inspired Tirath to enter active politics.
Before that, Tirath was also Students' Union President in Garhwal University. In undivided UP, Tirath had become a member of UP legislative Council in 1997 and after formation of Uttarakhand as a separate state, he was Education Minister in the interim government, first led by Nityanand Swami and then by Bhagat Singh Koshiyari. He also held posts of BJP State President. He had lost successive assembly elections from Pauri, in 2002 and 2007. The margin of his defeat in 2007 was only 11 votes against Independent candidate Yashpal Benam, who was then a Congress rebel and is now in BJP.
The party placed trust in him in 2012 and he emerged victorious from Chaubattakhal in Pauri district. But in 2017, the party denied him ticket and fielded former Congress MP Satpal Maharaj who had crossed over to BJP in March 2014. Maharaj won and joined the Trivendra Singh Rawat cabinet.
Sensing Tirath's disappointment over denial of ticket, BJP appointed him party National Secretary in the middle of the polls. And in 2019 Lok Sabha polls, when his political guru and five-term Garhwal MP Maj Gen Bhuwan Chandra Khanduri did not contest due to age factor, Tirath was given the ticket. He won by a margin of over 3 lakh votes defeating Khanduri's son Manish, a Congress candidate.
Four years after denying him an MLA ticket, BJP picked him for CM post and party's face for the 2022 assembly polls.
What prompted Trivendra Singh Rawat to resign?
Recently, Rawat addressed a press conference at his official residence, telling the media that the party has "collectively decided" that someone else should lead the state now. He said, he comes from a humble background and never even imagined his party will give him the honour of serving Uttarakhand for nearly four years as a Chief Minister.
Uttarakhand Chief Minister Trivendra Singh Rawat resigned on March 9, ending days of speculations about a leadership change in the Bharatiya Janata Party-ruled hill state amid reports of discontent against him. Rawat became the Chief Minister of Uttarakhand on March 18, 2017 when the BJP stormed to power, winning 57 of the state's 70 Assembly seats. His resignation came nine days before the BJP government completes four years in power.
Where did Trivendra Singh Rawat go wrong?
To read the further articles please get your copy of Eastern Panorama April issue @http://www.magzter.com/IN/Hill-Publications/Eastern-Panorama/News/ or mail to contact @easternpanorama.in