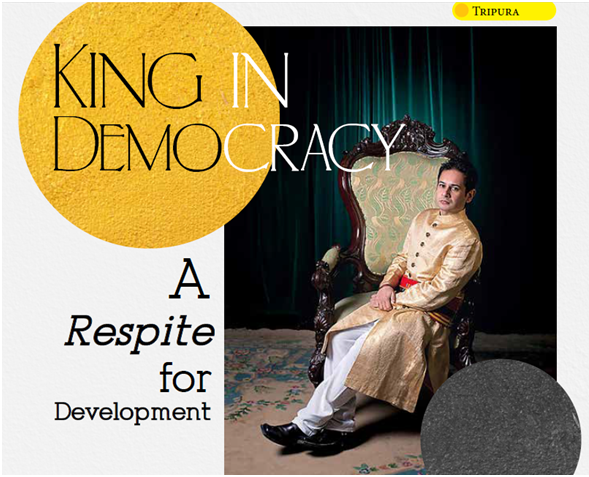 Monarchy ended in Tripura with the merger of the king's ruled state with Indian union in 1949 and established democracy. After 72 years of democracy, the third generation of Tripura royal family - the only surviving coroneted prince of Manikya dynasty Pradyot Bikram Kishore Manikya Deb Barman becomes the ruler of Tripura Tribal Areas Autonomous District Council (ADC). The Tripura royal family has been well-accepted by the tribal and non-tribal communities for generations together and the people of the state are loyal to the family.
The people of Tripura elected Pradyot's father Kirit Bikram Kishore Deb Barman thrice as candidate of Indian National Congress to Loksabha in 1967, 1977 and 1989. Mother Bibhu Kumari Devi was elected in 1988 as Congress candidate in Tripura Legislative Assembly and became Revenue Minister of Congress-TUJS government. Later, in 1991 general election, she was elected to Loksabha. His sister Maharaj Kumari Pragya Deb Barman fought in 2019 general election from East Tripura constituency as a Congress candidate but lost. Pradyot Kishore was made President of Tripura Pradesh Congress Committee. But he had to leave the party following differences with the central Congress leaders over their stand on CAA and NRC. After a brief break, Pradyot started an NGO – The Indigenous Progressive Regional Alliance (TIPRA) when Covid-19 hit the country badly. Many people stuck outside the state had returned with the support of TIPRA, he had extended support to displaced Bru migrants of Mizoram lodging in North Tripura camps when the government stopped their ration besides, distributing a huge amount of relief during pandemic to the distress people in the hills. In the end of December last year, Pradyot turned his NGO into a political platform called – TIPRA Motha. Within three months of its formation, TIPRA Motha participated in ADC elections fighting against a number of odds and political vendetta. Pradyot Kishore was abused and insulted in several occasions by BJP's Tribal Front Chief and Loksabha MP Rebati Tripura, Education Minister of Tripura Ratan Lal Nath and Tribal Welfare Minister and BJP's ally in the government IPFT's General Secretary Mevar Kr Jamatia for fighting ADC election without any support from any recognised political party. Pradyot was seen crying in a public meeting where IPFT leaders have allegedly cheated him with the indulgence of BJP. Leaving behind all challenges, TIPRA Motha came out with flying colours in ADC after winning 16 seats alone while its partner INPT won two seats in 28 members' council. But he did not become Chief Executive Member (CEM) of ADC and remained as Chairman of TIPRA Motha.
While appreciating the decision of Pradyot Kishore, political analysts said that the CEM post is not befitting for royal scion Pradyot Kishore Manikya and not getting the post has also yielded a good result for his party in the long run. Except for Tripura, local parties are the determinant political force in all other north-eastern states for the last 50 years. The national parties like Congress or BJP were evident of forging alliance with the local party in the respective states but in case of Tripura, the situation is reversed. The local parties have so far tied up with national parties sacrificing the core interest of the party. As a result, Tripura has not been able to create a national level leader like other states of the region despite having vast potential. Meghalaya, Nagaland, Mizoram, Sikkim and Arunachal Pradesh followed by Manipur and Assam are having the strongest local party and leader, which compelled the national parties to join hands with them for winning the elections.
Dr Biswendu Bhattacharjee
To read the further articles please get your copy of Eastern Panorama May, June issue @http://www.magzter.com/IN/Hill-Publications/Eastern-Panorama/News/ or mail to contact @easternpanorama.in