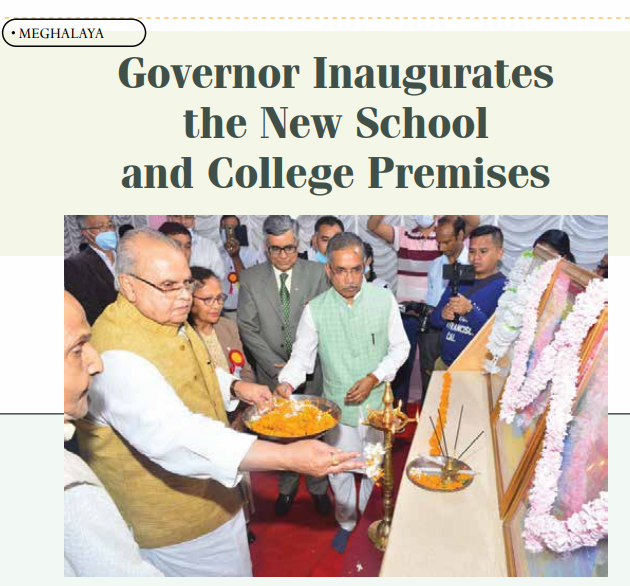 Meghalaya Governor, Shri. Satya Pal Malik inaugurated the new school and college building of Shri. Kanchi Kamakoti Vidya Bharati Vidyalaya at Mawbah, Barapathar, Shillong.
Addressing the gathering Shri. Satya Pal Malik lamented the fact that the education sector is not given its due importance in the country. Informing that barely 6% of the country's budget is utilized for education, he said, that while universities in the USA and UK have hundreds of Nobel Peace Prizes, India boasts of only 12.
Terming the Indian education system as lacking quality due to lack of attention, he reiterated the need for people to embrace education and said that empowerment of any society can only come through education. The Governor also lauded the Kanchi Kamakoti Shankara Health, Education and Charitable Trust for taking the stride in making a positive impact in the field of education through their immense contribution at the ground level.
The new school building is constructed on the land donated by the Goenka family of Shillong and has been imparting education till class 10 since 2004. The new building was constructed by Kanchi Kamakoti Shankara Health, Education and Charitable Trust while the day to day administration of the school will be carried out by Purvottar Janajati Shiksha Samiti and Meghalaya Shiksha Smiti.
On the occasion local MLA Shri. R. Rapsang made a donation of 15 lakhs towards school furniture while 30 bigas of land was donated by Shri. Pralad Toor, a businessman and a social worker for the construction of school at Nongpoh.
Others who spoke on the occasion were Shri. Nalin Mehta, Director NEIGRIHMS and Padmashree Patricia Mukhim and Dr K.K Jhunjhunwala Editor-in-Chief Eastern Panorama and Secretary of Meghalaya Siksha Samiti Shillong who graced the programme as the Guest of Honour.
To read the further articles please get your copy of Eastern Panorama July issue @http://www.magzter.com/IN/Hill-Publications/Eastern-Panorama/News/ or mail to contact @easternpanorama.in