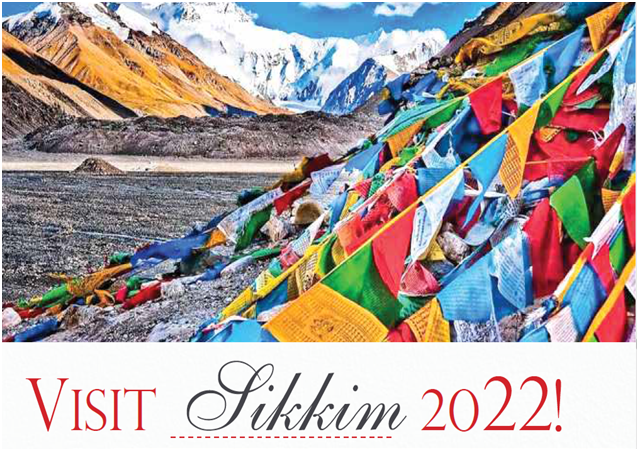 To revive the tourism industry in Sikkim ailing under the impact of the Covid-19 pandemic, the Chief Minister, Prem Singh Tamang said that the State Government would promote "Visit Sikkim 2022" year. Visit Sikkim is mainly focused on having tourists in Sikkim for the whole year, instead of season-based tourism endeavour in the State.
"Visit Sikkim 2022 is aimed at marketing and promoting tourism. We want tourists from across the world to visit Sikkim throughout 2022," said Chief Minister Tamang in a function at Gangtok. He stressed and encouraged to embrace the call of 'Atithi Devo Bhava' on creating goodwill with the tourists, so they revisit Sikkim.
Tourism is one of the booming industries in Sikkim and contributes substantially towards the revenue generation from the last few decades.
The Chief Minister stated that the marketing and promotion are of utmost importance for strengthening the sector and making Sikkim an ideal tourist destination.
The Chief Minister mentioned that the pandemic had caused loss to the industry in 2020 and was also expected to cause further losses in 2021 as well. State government has constituted an economic revival committee in view of the losses suffered because of Covid-19 pandemic.
"We had set up the economic revival committee in view of the losses suffered because of Covid-19. The committee has submitted its report, and we will lend whatever support that is required (to the tourism industry) according to its recommendation," Chief Minister asserted.
Once the Pakyong airport is re-operational, then it will be a big boost for tourism in the State. Airport Authority of India informed that Pakyong GreenField Airport will re-operate from end of this month (January 2021) and direct daily flights will start from Delhi-Pakyong. Pakyong airport is located 40 kilometres away from the capital town Gangtok.
The State government planned to hold many tourism-related events, including a mega festival, throughout 2022.
Due to Covid-19 pandemic, tourism industry in the Himalayan state Sikkim, had come to a complete stand still for several months from March to October 2020. With the re-opening of tourism sector under Government of India unlocking guidelines, around 2 lakhs tourists have visited Sikkim. According to the State Tourism department before Covid-19 pandemic heated the nation, 15.5 lakh tourists including foreign nationals visited Sikkim.
Sandeep K Rai
To read the further articles please get your copy of Eastern Panorama February issue @http://www.magzter.com/IN/Hill-Publications/Eastern-Panorama/News/ or mail to contact @easternpanorama.in