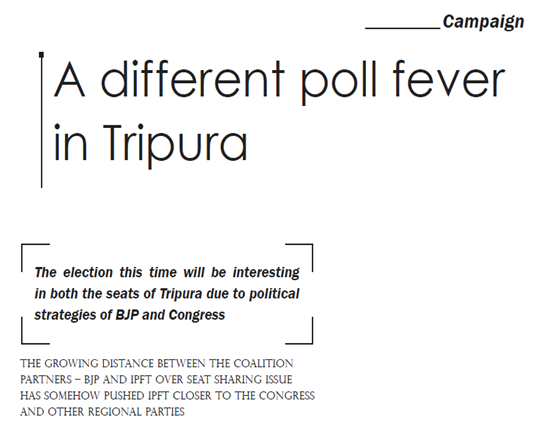 This is for the first time in the electoral history of Tripura when ruling party faced decadence and hit badly by an internal squabble among the leaders that led to massive violence during Loksabha elections in the state. The BJP and Congress fielded fresh candidates in West Tripura general seat and East Tripura tribal reserved constituency against the sitting MPs and veteran politicians. Most interestingly BJP's ally in the government Indigenous Peoples' Front of Tripura (IPFT) has put their independent candidates in Loksabha seats against BJP and others. The East Tripura candidate of IPFT is the President of the party and Revenue and Fishery Minister of Biplab Kumar Deb cabinet N C Debbarma and in West, Tripura sitting MLA of the party Brishketu Debbaram becomes a candidate. The BJP fielded their most aspirant female leader and party general secretary Pratima Bhowmik from West Tripura and a school teacher and greenhorn in politics Rebati Tripura.
The 49 –yrs old Bhowmik has been in BJP since her college days when nobody in Tripura did dare to identify as preacher and practitioner of Hindutva ideology due to upscale politics of left parties. She had fought several elections from village Panchayats to assembly but she did not succeed ever before and this time Bhowmik is most expecting Member of Parliament from West Tripura. Though she has been facing a tough time from her nearest rival and just former Vice President of BJP and her senior colleague in the party for almost five years Subal Bhowmik who joined Congress a fortnight ago. The prospect of CPI (M) this time is not much visible and believed the party will face the biggest defeat this time in the history of Tripura.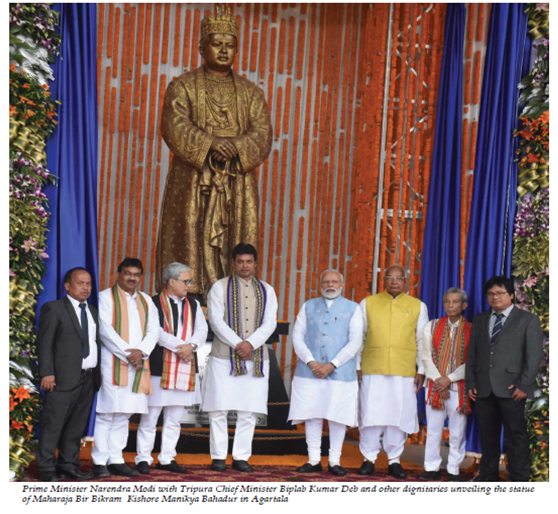 Member of Tripura Royal family and elder sister of Tripura Congress Chief Pradyot Kishore Debbarman – Rajkumari Pragya Debbarman is fighting in East Tripura reserved seat against BJP's young leader Rebati Tripura, IPFT's President and Revenue Minister of state N C Debbarma and CPI (M) sitting MP Jitendra Choudhury. The East Tripura seat was once represented by Pragya's father Kirit Bikram Kishore Manikya Dev Barman as well as her mother Bibhu Kumari Devi. To inculcate the royal sentiment and carry forward the legacy of Tripura royal family, Congress this time fielded Pragya Debbarman. She is new in politics but having the acceptance among both tribal and non-tribal as the granddaughter of the last king of Tripura Bir Bikram Kishore Manikya who has been recognized by present BJP government in Tripura. With the pursuance of Tripura Chief Minister Biplab Kumar Deb, Agartala airport has named after Maharaj Bir Bikram and a statue of him was unveiled by Prime Minister Narendra Modi during his visit to Northeast in last month. Chief Minister Deb has also written a book on the contribution of Bir Bikram in development of the state recently. All those moves were believed to be the attempts to win over Tripura's royal family but finally, BJP could not succeed. The indigenous people have a strong affinity and attachment to the Royal family and fielding Pragya Debbarman is a well-calculated step aimed at swaying the tribal sentiments in favour of Congress. The election this time has appeared interesting in both the seats of Tripura due to political strategies of BJP and Congress. In East Tripura seat, BJP has shouldered the responsibility of campaign to Deputy Chief Minister Jishnu Dev Varma who is happened to be the uncle of Pragya. In West Tripura, the responsibility of poll management has been entrusted to Health Minister Sudip Roy Barman who is also a close friend of Subal Bhowmik.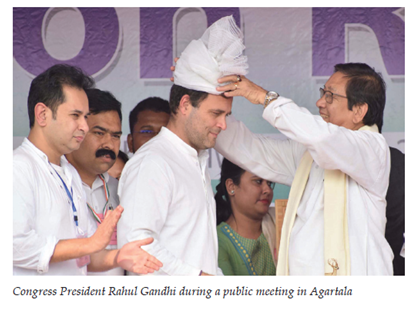 However, internal squabble over dominance of power has exposed badly in this election in BJP. While it's partner in Tripura government tribal based IPFT has already entered into the fray in both the Loksabha seats of the state separately, the involvement of few ministers and MLAs who had joined BJP before the election from Congress was almost nil in the poll campaign. The presence of Health Minister Sudip Roy Barman who was made in-charge of West Tripura poll management committee is zero in the election campaign. Rather he has been attending blood donation camps in the state when poll fever gripped the country. Similarly, Food, Civil Supplies, and Sports Minister Manoj Kanti Deb and a number of MLAs having a background of Congress were also found not active in the poll campaign. Besides, Chief Minister Biplab Kumar Deb, Deputy Chief Minister Jishnu Dev Varma, Social Welfare Minister Shantana Chakma, Education Minister Ratan Lal Nath, and Agriculture Minister Pranajit Singharoy and a few MLAs have been active in the poll campaign for BJP candidates. According to the report, Health Minister Roy Barman a popular leader among anti-left parties was allegedly sidelined by BJP state leadership accusing him of opposing Chief Minister Biplab Kumar Deb and a few decisions of the party. The party has reportedly communicated him to be dropped from the cabinet once the general election is over, which made Barman hostile and became inactive. "The BJP leaders' slapped series of wild allegations against him, despite he appeared as a most successful minister in the government in one year. They suspected him as congressman without any reason. He was humiliated several times by the Chief Minister and latest by Chief Minister's Principal Secretary Kumar Alok. Both the party and the Chief Minister rather stand with the erring officer and further insulted him," said a close aide of Barman adding that BJP top leaders were intimated all those happenings.
On the other, Revenue Minister and IPFT nominee in East Tripura N C Debbarma charged IPFT for not complying with the alliance principle and fielded their candidates without discussion with them; IFPT however, denied the allegations and claimed that they had been demanding East Tripura seats for a long time. Even the matter was put forward to BJP top leaders including Ram Madhav but it was denied. "We are fighting the election to raise our demand of separate state (Twipraland) in the parliament. Unless the issue is being taken up in the parliament, there is hardly any chance to get a reasonable solution. For the last many years we have been pushing our demands at every level but yielded nothing. The only option is left for us is to get our representatives in parliament and raise the issue but there is no misunderstanding with BJP," N C Debbarma.
Biswendu Bhattacharjee
To read the further articles please get your copy of Eastern Panorama April issue @http://www.magzter.com/IN/Hill-Publications/Eastern-Panorama/News/ or mail to contact @easternpanorama.in