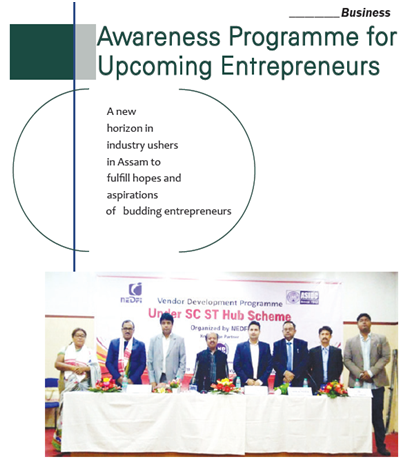 Awareness programmes for National Scheduled Caste-Scheduled Tribe (SC-ST) Hub held across the districts of Assam since November last year to attract the entrepreneurs towards the government's initiative to provide them various incentive and help them grow and flourish in the field of Micro, Small and Medium Entrepreneurs (MSMEs) along with Vendors Development Programme concluded with an exhibition of entrepreneurs at Guwahati.
All the programmes were organised with the support of PHD Chamber of Commerce (PHDCCI) in accordance with the NSSH Scheme, which is an initiative of the Ministry of Micro, Small and Medium Enterprises (MoMSME) targeted towards developing a supportive ecosystem for SC-ST entrepreneurs.
A PHDCCI source informed that the government was trying to make procurement activities of the public sector more inclusive and participative as the Public Procurement Policy 2012 for MSMEs mandates that Central Government ministries, Departments and Public-Sector Undertakings procure minimum of 25 percent of their annual value of goods or services from MSMEs. In addition, 4% of total procurement of goods and services are to be made from Micro and Small Enterprises owned by SC & ST entrepreneurs.
To showcase the overall impact of awareness of SC-ST and Vendor Development programme, Assam Small Industries Development Corporation Limited (ASIDC), in association with North Eastern Development Finance Corporation Ltd. (NEDFi) organised a two day State level Exhibition under National Scheduled Caste, Scheduled Tribe Hub (NSSH) Scheme on February 27 and 28 at Lakhidhar Bora Kshetra in Guwahati.
The Exhibition was inaugurated by Minister of Fisheries, Excise, Environment and Forest, Parimal Suklabaidya in the presence of Deputy General Manager, NEDFi, Manoj Kumar Das, ASIDC high official, Abdul Hamid of ASIDC and Deputy Director of PHD Chamber of Commerce NER, S.K. Hazarika, CPSEs, Banks, Industry Associations and various other agencies of Central and State Government.
Speaking on the occasion, Suklabaidya stated that the exhibition was being organised under National Scheduled Caste Scheduled Tribe Hub (NSSH) Scheme as a marketing support to the SC-ST MSMEs. He gave a brief description on the works the State Government is doing for the SC and ST community. "I assure all the State Government's full support to the Ministry of MSME to enable entrepreneurism amongst the SC and ST community", He added.
The purpose of the Exhibition is to share information on items and services that CPSEs could procure from SC/ST MSMEs, creating awareness of different schemes like NEIDS, State Industrial Policy, MUDRA, CGTMSE, Stand up India etc. and various other benefits for capacity building of young men and women from SC/ST community.
Altogether 42 stalls of different items were set up by MSMEs from SC and ST community, which included Handloom and Handicraft, Traditional Jewellery, Gem cutting, Organic farming etc. Amongst others North Eastern Frontier Railways (NFR), Oil India Ltd (OIL), North Eastern Electric Power Corporation Ltd (NEEPCO), Brahmaputra Cracker and Polymer Ltd (BCPL) had also set up stalls.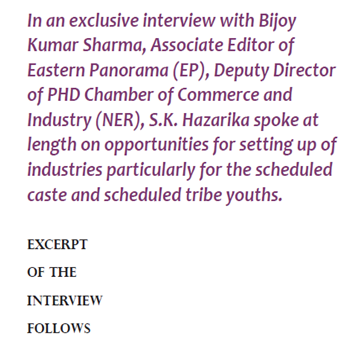 President of Friends of Bangladesh, Dr. Soumen Bharatiya and Deputy General Manager, Airports Authority of India, Borjhar Najeer Basha also addressed the meeting.
Bijoy Kumar Sharma
To read the further articles please get your copy of Eastern Panorama April issue @http://www.magzter.com/IN/Hill-Publications/Eastern-Panorama/News/ or mail to contact @easternpanorama.in