1.

River and coastal connectivity in Eastern South Asia which includesseveral sub-topic such as 'Revisiting the India-Bangladesh protocol routes in the light of recent developments', 'Sea access for land locked territories', 'Recent developments in coastal connectivity', 'Policy shifts and implications for larger BIMSTEC coastal connectivity', 'Infrastructure development plans linked to riverine coastal connectivity: Possibilities in the immediate future' and 'Creating sustainable protocols and practices for river and coastal transport'
2.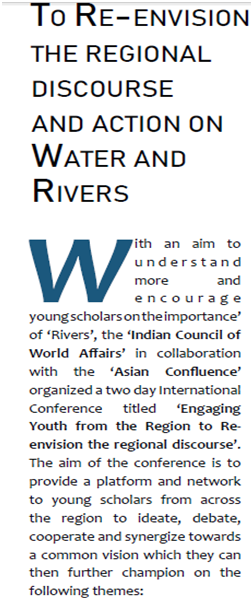 Rivers as a means of livelihood which includes 'Fish biodiversity and catch availability: Impact on small and medium fishermen', 'Trade-off between navigation and river linked livelihoods', 'Impact on small and non-mechanized boats operators from river and coastal development plans ensuring inclusion and gains', Riverine trade: Focus on Communities living along the river banks within and across borders, 'Managing water resources for agriculture and irrigation given climate change concerns (could be focused on a specific geography or basin, ideally Brahmaputra or Meghna and talk about the challenges given various needs or uses of water and its allocations)
3. Regional Cooperation on Water which includes 'Gendering water cooperation framework in the region, 'River cooperation framework: Learning from the Mekong experience', 'Stakes and participation by hill states in river basin planning', and Including the community and ground level perspectives in larger framework of river cooperation.
Climate Change and rivers which includes; Impact on river linked livelihoods', 'Best practices on adaptation by riverine communities', Impact on aquatic species and preservation success stories', 'Role of social enterprises in adaptation at the ground level: Innovative strategies and solutions'.
Tourism which includes 'Riverine and water tourism: Community managed success stories and learning for the region', 'Flowing Borders as enablers of tourism across borders', 'Possibilities on inland waterway tourism between Myanmar and India', 'Possibilities on inland waterway tourism between Bangladesh and India.
The inaugural session was attended by policy makers and leaders such as Shri. Ram Muivah, IAS, Secretary North Eastern Council, Government of India of the region, and Amb. M. Shahidul Islam, Secretary General and BIMSTEC Secretariat, where as the technical sessions were attended by scholars, academicians and researchers, who present their papers briefly on the session. The conference was attended by various scholars from various universities of the North Eastern States, and South East Asian countries. The program is looked upon as an attempt at realizing a vigorous popular interaction from, by and about this region beyond the binaries of statist interventions and business initiatives, engaging young minds to move beyond the contingency of history and political geography of divided borders and live into a future that seeks to view the region in positive and progressive terms.
EP Desk
To read the further articles please get your copy of Eastern Panorama April issue @http://www.magzter.com/IN/Hill-Publications/Eastern-Panorama/News/ or mail to contact @easternpanorama.in