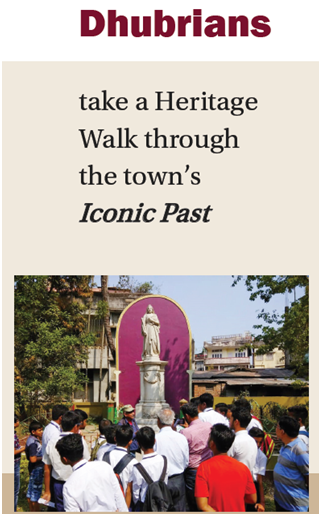 A group comprising of 40 heritage enthusiasts from Dhubri town started off their weekend with a Heritage walk that covered the important Heritage Buildings of the Town.
This was a third successful walk to generate awareness about the existing rich heritage of Dhubri town. The Heritage trail was organised by Sahapedia, India Heritage Walks in collaboration with the District Museum, Dhubri.
The 2-km walk began from the Victoria Statue Park at Tetultola, a marble statue measuring 20 feet in height installed by the British rulers in 1905 against the backdrop of the Bengal Partition, and covered 15 destinations of historical importance.
Bijoy Kumar Sharma, a journalist and social worker of Dhubri led the walk unravelling facts, histories and narratives of the town in lucid detail. Sharma has been very instrumental in creating awareness and safeguarding and protecting the heritage buildings of Dhubri Town since decades.
The Meteorological Tower on the bank of the Brahmaputra was built by the British in the 17th century to assess the weather and climate resources, past the 200 years old tower. Sharma further added that this would help in bringing tourists from across India and the world to Dhubri.
Talking to Eastern Panorama, Dhubri District Museum Officer, Mrinmoy Das informed that the Heritage walk of Dhubri Town, on the same day shared a common platform with 8 other heritage walks held across the country by India Heritage Walks, Sahapedia, New Delhi.
"It is a matter of great pride that the importance of Dhubri town as a rich heritage centre has been recognised on a national platform. The India Heritage Walks, a unit of Sahapedia, New Delhi conducts heritage trails in various places across the country with an aim to encourage citizens to explore the monuments and places rich in history, art and Architecture", Das added.
"I was born in Dhubri and have been living here since last 15 years but at present, I understood the importance of the town from the point of Modern History. It holds a major value in terms of cultural and socio-economic background" said Arnab Saha, a student of S.P.English Medium School of Dhubri.
Dhubri was once an important administrative seat of the British who controlled the entire northeast and built the town as one of the major economic corridors to Northeast India and East Bengal, now Bangladesh. Professors from Dhubri Law college, S.P.English Medium and Kumar Bhaskar Varma Sanskrit University of Cooch Behar of West Bangal also joined the walk.
Arnab Roy
To read the further articles please get your copy of Eastern Panorama April issue @http://www.magzter.com/IN/Hill-Publications/Eastern-Panorama/News/ or mail to contact @easternpanorama.in