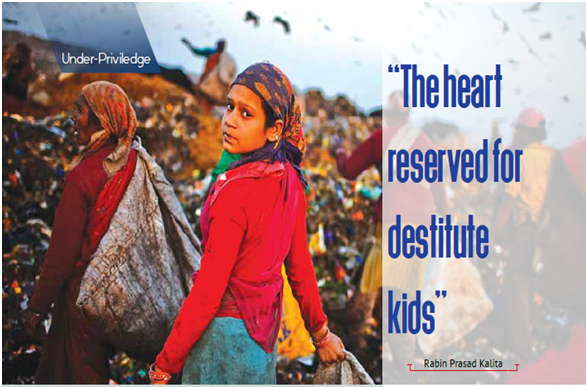 They picked up recyclable materials from the street, garbage dump, market or in trash bin. They were a group of four minor rag pickers between 7 to 10 years of age meet at a point and starts picking rags in the railway colony. They picked up anything which fetched them money such as paper, cardboard, plastic, iron scrap, tin containers, and bottles. Nupur, the eldest one helped other three minors to identify the retrievable bits and pieces. She walked along them with a rod in hand tied with a piece of magnet to fish out for salvageable iron bits. Their extreme poverty forced them to enter in this profession to stay alive.
Arpan, a Vivekananda School student seldom see them roving and collecting scraps from unhealthy plunk. Seeing them wandering all the day in search of rags slinging huge plastic sacks on their petite shoulders out cried his tiny heart in pain.They went through a very tough time in searching all over to eke out their livelihood. He scrupulously watched their untidy and dirty clothes, careless hairs standing by the side of the road. Very often, he saw them meet with injuries and falling sick due to the toxic substances and sharp material while they scrounged with bare hands as well as bare feet. It is also a hard truth that, no credibility is given to these deprived rag pickers who play a vital role in waste management system especially in urban area.
Sometimes he broke into tears by seeing them consuming food-waste sitting together collected from the pile of waste. Gradually he developed a sense of help towards them. Every so often, he would bring toffees for them or biscuits bought out of his pocket money. He loved to talk with them and was eager to know their wellbeing.
Thus, he became an identified face who ardently thought about them. Seeing him at a distance they would run shouting "Arpanda- Arpanda" and asked for anything which he could provide them to eat. Soon they get his nods; they would hop and shout with joy and accompanied him to the shop. Hardly they found him empty handed while he was on the way to his school. Those poor children also felt delighted to meet Arpan daily at a fixed time.
Sometimes with his diminutive head was indoctrinating them to go and attend the nearby government school where there is a proviso of mid-day meal. They said, of course they went for a few days to the school but stopped in-between because it was hard to survive with a scanty single meal for the whole day. Hence, they decided to continue to pick rags and sell those to the middle men for their living.
As per the decadal census over the period 2001-11, the population has increased by 181 million and the percentage of growth is 18. Literacy has gone up from 65 percent to 74 percent but the slum population has increased from 75 million to 93 million during the aforesaid period which is alarming. The present Government has to work out with some potential project to provide care and education so that they are removed from the shackles of child labour as well as poverty. Otherwise, the gap will stretch beyond from reaching out the goal of a healthy society. Nearly 1 in every 6 individuals of urban households lives in slums.
Under various heads Sarva Sikshya Abhiyan, schools are getting financial assistance but due to the lack of genuine initiative, funds are not utilized properly. Had it been utilized with proper planning, no children would have been seen on streets searching for rags to survive.
Arpan observed that they didn't have much attention from their families even they don't heed to their parents' advice as they met their own expenditure themselves. Very often they spent their night sleeping on pavements or in shacks because of their weak links with their family.
One day while Arpan was on the way to his home, he saw three of them were involved in fighting except Nupur, who was trying to disperse them off standing in-between. The cause of the fight was about the decision of a bit valuable find amidst a mound of rubbish which was claimed individually by all three pickers. While they saw Arpan was coming near to them, the fight was almost clogged and all of them approached him for a convenient solution as to who should own the find. It was probably an earnest respect paid to Arpan which he earned over a period of time of cordial closeness with them.
Occasionally, Arpan used to call them to collect some reusable used clothes and foot wears which were earlier worn by him and his sister. Therefore, he informed his father Siddhant about his promise to help those destitute kids. A couple of days later, when Nupur and her colleagues came up to their railway colony quarter, Siddhant greeted them with some palatable dishes along with available supports as assured by Arpan. Seeing them leaving his home happily, Siddhant's heart got fulfilled with enormous peace and tranquility. At the same time, he was equally concerned about their future too.
After a few years of empathetic association along with these street children, Arpan had to move out of the city to Chandigarh for his higher study. And thus their everyday flocking with Arpan was almost come to an end from meeting in person.
By the time, the older one among the three boys grew physically enough to ride a tricycle and started collecting as an itinerant buyer directly from households, shops and offices. Though he started it independently, but his relation with other three guys was not yet over.
To read the further articles please get your copy of Eastern Panorama August issue @http://www.magzter.com/IN/Hill-Publications/Eastern-Panorama/News/ or mail to contact @easternpanorama.in