PSY wants to break free.....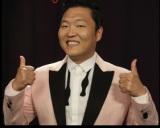 The Korean oddity got into the music business because he became fixated on QUEEN hits including I Want To Break Free — which comes with the famous video of FREDDIE MERCURY cleaning in drag. Psy's obsession explains why he's overjoyed to be in the studio working on a track with Queen guitarist BRIAN MAY. And Bizarre is to blame for the odd-couple collaboration.
It was revealed recently that Psy's biggest influence was Queen, after he played their old performances on loop as a teenager in South Korea.Soon after, Psy got together for lunch with Brian — who agreed to work with him because he thought it was heart-warming to hear Queen had inspired him to get into music.