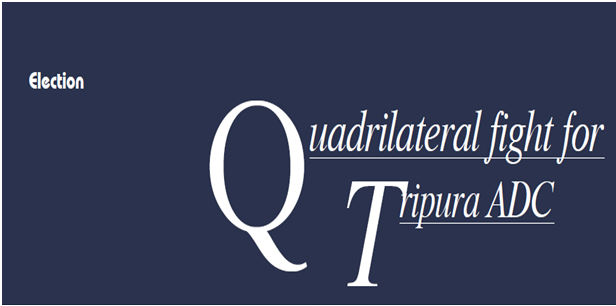 Realignment of political equations in the ruling front for ensuing Tripura Tribal Areas Autonomous District Council (ADC) elections situation in hills turns volatile. Although ruling BJP and tribal based Indigenous Peoples Front of Tripura (IPFT) after a long battle formally retained the alliance and fighting ADC on seat sharing basis, practically each of them has been working against others to defeat. Unfortunately, BJP which runs the government in the centre and state had to bow down to its junior partner IPFT just for survival of Chief Minister Biplab Kumar Deb.
But the footings of BJP in Tripura hills among tribals have lost, which will certainly affect the future of BJP in next assembly elections. The state BJP leaders could not feel the power of regional tribal parties in the state and ignored IPFT in ADC related issues since beginning despite they are partners in the state government. Visibly quadrilateral fight to capture 28–members ADC, actually it is a pentagonal contest. Besides, BJP-IPFT combine, Tripura royal scion Pradyot Kishore Deb Barman's NGO turns political party Tipraha Indigenous Progressive Regional Alliance (TIPRA), CPI-M and Congress are in the election to be held on April 6. However, within BJP-IPFT combine who are fighting only in 11 seats of 28 together has been working for defeating each other to satisfy the ego. Interestingly, in spite of alliance and seat sharing in three seats, candidates of both the parties with symbols are in the fray. However, in many other seats aggrieved leaders of BJP and IPFT got into the battle as independent candidates who are considered as factors for deciding the victory. Pradyot's TIPRA has already emerged as one of the leading parties for ADC this time but because of vote sharing among non-left parties, Left Front has secured a comfortable position to regain their lost ground within three years of BJP-IPFT rule in Tripura. There are allegations against the ruling BJP for pumping huge money to influence the voters of their targeted 14 seats and also, allegedly in the process of manipulating the electoral process. According to report, BJP is desperately working against IPFT and TIPRA and all the violence reported so far in the ensuing elections have been among BJP, IPFT and TIPRA. There is no disturbance for left front candidates and Congress.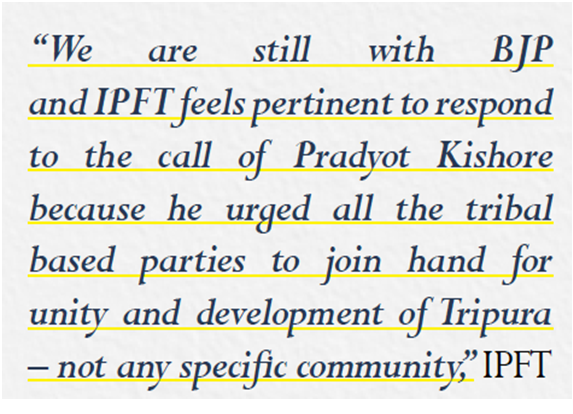 The differences between ruling BJP and IPFT had begun in May last year when Tripura government opposing the demand of its ally IPFT had appointed a retired Chief Secretary as Administrator to run ADC after deciding to defer the scheduled election due to Covid-19 pandemic. The General Secretary of IPFT holding the portfolio of Tribal Welfare and Forest in Biplab Deb's cabinet wanted to take over the administration of ADC, as it was told to be decided before 2018 assembly election between two parties. However, BJP did not agree to it rather nullify the demands, which further strain the relation of two partners. The BJP in Tripura utterly failed to build up the party not only in tribal areas but also, in the plains in three years of its rule. The party which came to power with the support of over 44 percent vote share from 1.5 percent in 2018, BJP leadership could not assess the logarithm of success. The Chief Minister Biplab Deb believes the voters became BJP only after he came to Tripura as a President of the party in 2015 and the government was formed only because of his charismatic calibre (!) but he failed to understand the reality that hardly people become BJP – they voted against 25 years of misrule of communist. Soon after step into the office of Chief Minister Biplab Kumar Deb kicked out the 'king maker' Sunil Deodhar from the state. All other promising and popular leaders like Sudip Roybarman, Ashish Kumar Saha, Susanta Chowdhury, Ramprasad Paul, Ashis Das, D C Hrangkhawl and Rampada Jamatia were sidelined and CM was allegedly conspired against each one of them to ruin their carrier. Instead CM chose his team with most unpopular leaders like Ratan Lal Nath, Ratan Chakraborty, Mimi Majumdar, Biswabandhu Sen, Rebati Mohan Das, Krishnadhan Das and Shankar Roy like MLAs but did not pay any attention for building of the party.
Dr Biswendu Bhattacharjee
To read the further articles please get your copy of Eastern Panorama April issue @http://www.magzter.com/IN/Hill-Publications/Eastern-Panorama/News/ or mail to contact @easternpanorama.in