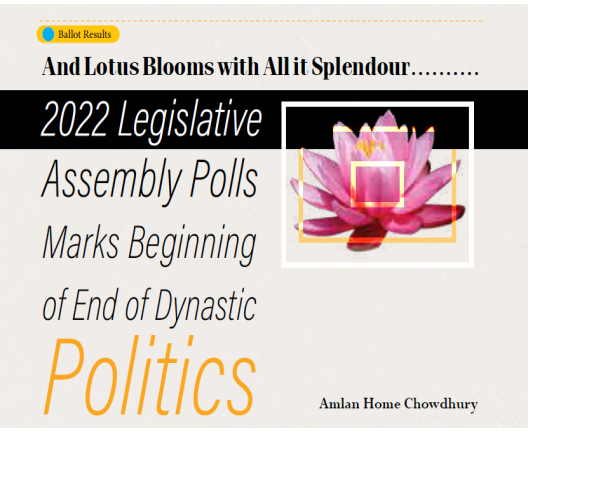 All water bodies look heavenly when the lotus blooms. This lotus-smile, reflected in the water due to sun rays or moonlight, makes us euphoric.
No wonder, a national euphoria resulted out of the historic lotus-bloom in the just concluded legislative assembly polls in Manipur, Uttar Pradesh, Goa and Uttarakhand.
In India, the politics can be compared with water. This is due to the scientific fact that water seeks its own vent. Similarly, the Indian voters also ventilated their grievances against the pseudo- secular political outfits to elect the BJP in these four states.
Call it lotus power? Yes, why not?
A post-poll analysis of result of all these four states proves the anti-incumbency factor did not work there at all as the margin of votes improved as compared to the 2017 Assembly Elections.
Perhaps the following factors worked for this:
· People were happy at the economic growth of respective states achieved earlier by the BJP government.
· Voters, by and large, rejected the Congress to opt for the BJP
· People expressed their unwillingness to allow dynastic politics to play its role
· Voters showed tendency of not to support smaller regional parties
· Aam Aadmi Party (AAP) proved to be a political adventurer except Punjab where it won with a spectacular show.
· Samajwadi Party did well in Uttar Pradesh to emerge as the main opposition.
The blooming of lotus in four states is particularly important as proves the mass acceptability of BJP by the voters. This is important as nine states are going to re-elect their legislature in 2023 and the Lok Sabha polls too is slated in 2024
It is in this backdrop that the assembly poll in Gujarat is slated to take place in 2022. As a result, the just concluded polls in five states may impact the coming polls. It can be taken as general mood of the voters in India.
A review of the 2022 assembly poll results in five states gives us the following picture:
Manipur
Key Highlights
· A success for journalists as N. Biren Singh elected for the second consecutive term as Chief Minister.
· BJP bagged 32 of 60 seats proving its popularity graph goes up.
· Support to BJP by two members of the Kuki People's Alliance proves ethnic groups are supporting the BJP.
· Congress, winning only five seats (as against 27 seats of 2017), may face survival crisis.
Trend Study of Manipur Polls
· % of Vote share of Congress clocked at 16.83 (%) while it was 37.83 (%) for BJP.
· BJP wrested 11 seats more from 21 seats of 2017 polls.
· Rise of two Regional Parties (Conrad Sangma-led National People's Party or NPP and Kuki People Alliance or KPA).
· The just concluded Manipur polls may help the Meghalaya Chief Minister Conrad Sangma to help realize his reported ambition to make the NPP a pan-Northeast party.
· Success rate of KPA which was 100% in the poll is a major development. The party contested from two seats and won both. The KPA got the Election Commission of India's recognition just two months before the Manipur polls. It proves the newly emerged ethnicity-based parties can emerge stronger in Northeastern states in coming days.
Brief Political Analysis
The demand for removal of Armed Forces Special Powers Act or AFSPA may gain momentum in Manipur as the KPA had been asking for its withdrawal from Kuki-populated areas.
Challenges before N. Biren Singh mainly would be:
· Combating Corruption: "My Government's first step will be to make it a corruption-free state", Biren Singh said. During the polls, ending corruption at political, business and bureaucratic levels formed a major issue. Here, the Chief Minister has to show results.
· Stopping Drug Smuggling: Manipur became a victim of cross-border drug smuggling with bordering Myanmar being its main centre. Here, the new government has to work to break the drug cartels.
· Dealing with AFSPA Issue: Biren Singh has to do a balancing act with this local demand and opposition for its withdrawal from the Indian Army and the Union Home Ministry.
· Solving Unemployment Among Educated Youth: The state's literacy rate is about 80%. Subsequently, he has to generate more employment which may be difficult as Manipur is not an industrialized state.
Uttar Pradesh
To read the further articles please get your copy of Eastern Panorama April issue @http://www.magzter.com/IN/Hill-Publications/Eastern-Panorama/News/ or mail to contact @easternpanorama.in