Goodbye Pimples
Pimple breakouts might cause you to panic and try out all sorts of remedies that are available in the market.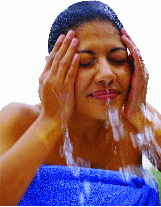 However, an effective cure of the problem lies in complete herbal care and by following a healthy dietary routine. Here are some tried and tested tips on the treatment of pimples.
Increase your intake of fluids and fruit juices. This prevents constipation.
Green vegetables like lettuce, celery, cabbage, spinach and other seasonal fruits should form an important part of your diet.
You should avoid consumption of red meat at all cost. Go for fish, lean meat and chicken instead.
Sweets, ice creams, colas, chocolates and hot spicy food are to be strictly avoided.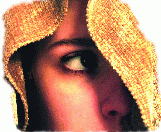 Avoid squeezing or popping pimples. These will lead to scars and increase the area of inflammation.
Salicyclic acid and benoyl peroxide are helpful in the prevention and cure of pimples.
Clean your face with a mild soap or special face cleanser specially formulated for acne related problems.
Always remember to use oil free cosmetics on your face.
Boil 100 gm of mint leaves in water and strain the liquid. Mix two teaspoons of camphor powder into this. Refrigerate the solution. Wipe your face with this preparation.
You can also try on a face pack which is prepared  by mixing fullers earth, sandalwood powder, rose water and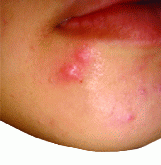 camphor. Apply this pack on your face and wash off with cold water, after it has dried.
You can prepare a simple face pack to considerably lighten the scars left by the outbreak of pimples. Get together some dried green pea powder, 12 cloves, fullers earth, sandalwood powder, mint powder, rice powder, camphor and neem powder. Make a paste from all these ingredients by adding rose water. Apply to your face and wash off when dry.
You can also apply ice cubes on swollen pimples. This will help to reduce the pain.
Blend honey and tomato juice  and apply on your face for 10 to 15 minutes. This will help to make old marks left by a pimple outbreak less visible.