Goodbye Pimples
Pimple breakouts might cause you to panic and try out all sorts of remedies that are available in the market.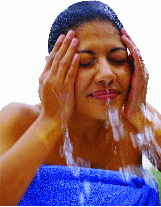 However, an effective cure of the problem lies in complete herbal care and by following a healthy dietary routine. Here are some tried and tested tips on the treatment of pimples.
Increase your intake of fluids and fruit juices. This prevents constipation.
Green vegetables like lettuce, celery, cabbage, spinach and other seasonal fruits should form an important part of your diet.
Add a comment
Read more: Goodbye Pimples