A SHAM CALLED PNB SCAM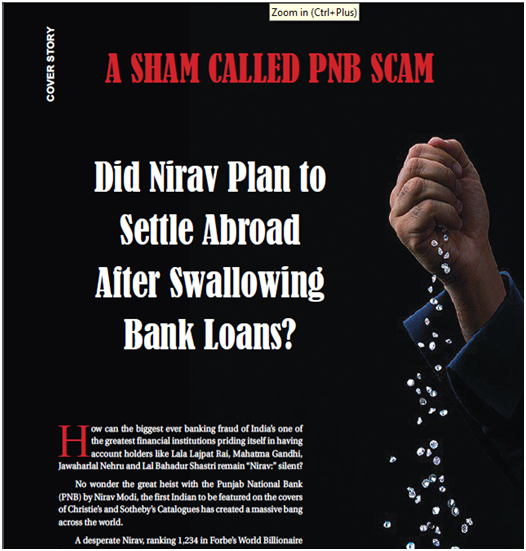 How can the biggest ever banking fraud of India's one of the greatest financial institutions priding itself in having account holders like Lala Lajpat Rai, Mahatma Gandhi, Jawaharlal Nehru and Lal Bahadur Shastri remain "Nirav:" silent?
No wonder the great heist with the Punjab National Bank (PNB) by Nirav Modi, the first Indian to be featured on the covers of Christie's and Sotheby's Catalogues has created a massive bang across the world.
A desperate Nirav, ranking 1,234 in Forbe's World Billionaire List for 2017, blamed the PNB for "Destroying My Brand." Is not it a really amazing quotable quote?
In Hindi, there is an interesting quote that perhaps fits ditto with Modi's blame. The quote goes "Ulta Chor Kotwal Ko Daante" (the thief lambasts the Kotwal – town police chief). It is the PNB that should blame Modi for this heist but it is the other way round. He is blaming the PNB for "Destroying My Brand."
A Celebrity Gets Notoriety
The Nirav Modi "Brand" has indeed been destroyed. This brand is owned by Firestar Diamond International Pvt Ltd. Just imagine, his clientele included top-notch personalities of the world including the Hollywood star Kate Winslet. Kate wore Nirav's diamond jewellery for her red-carpet walk at the 2016 Oscars.
His Firestar Diamond is known globally. But clouds have descended now on his companies. His "Brand" has been damaged so much so that Priyanka Chopra is seeking legal opinion on ending her contract as global ambassador for Modi. Earlier, Katrina Kaif and Aishwarya Rai had endorsed his brands. It is in the midst of this crisis that Modi has been blamed by Kangana Ranaut and Bipasha Basu for not paying them for endorsing his brand.
The worst thing for Nirav, however, is that the country's most respected credit rating agency India Ratings and Research (Ind-Ra) has cut the credit worthiness of two Nirav-Modi owned companies Firestar Diamond and Firestar Diamond International Private Limited. The CRISIL has also put PNB's rating on "Watch."
Nobody exactly knows the total quantum of the PNB fraud. However, it has been pegged at Rs. 11,000-cross. It should better be defined as PNB's whooping loss of Rs. 11,000-crore as the chances of recovery has widely been conveyed by the media as "very difficult."
Modi, his business partners and a section of PNB officials were involved in this fraud that was linked to fraudulent issue of Letters of Understandings (LoU). Modi and his business partners colluded with a section of PNB officials to fraudulently obtain advances for payments to overseas business suppliers.
A.Chowdhury
To read the further article please get your copy of Eastern Panorama March issue @http://www.magzter.com/IN/Hill-Publications/Eastern-Panorama/News/ or mail to contact @easternpanorama.in