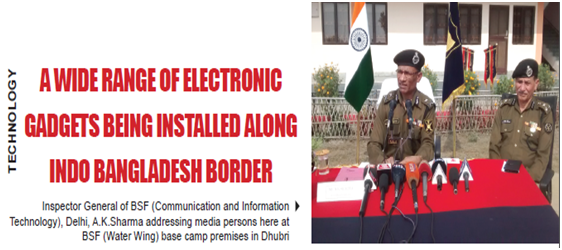 A wide range of electronic gadgets including Drone, for the first time of its kind in the country is being installed along the Indo-Bangladesh riverine border to stop trans-border movements and illegal activities in Dhubri district.
Inspector General of BSF (Communication and Information Technology), Delhi, A.K.Sharma while addressing media persons here at BSF (Water Wing) base camp premises in Dhubri recently, informed that modern and innovative technologies is being installed in order to ensure total sealing of the border where even a flying bird crossing the border could be detected even at night with night vision devices.
Installation of electronic gadgets already got underway along the 60.70 kms riverine border comprising 14 Border Out Posts (BOPs) and likely to be completed by October or November this year, Sharma said.
Add a comment
Read more: A WIDE RANGE OF ELECTRONIC GADGETS BEING INSTALLED ALONG INDO BANGLADESH BORDER