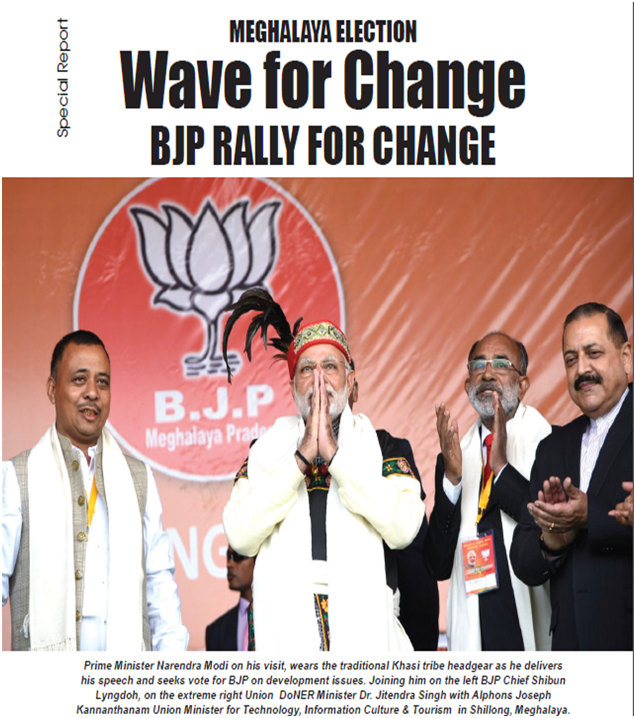 Bharatiya Janata Party (BJP) started its election campaign for the state of Meghalaya and Mizoram on December 16, 2017 through none other than Prime Minister Mr. Narendra Modi who is a charismatic leader and a great communicator. Even though the BJP has zero presence in the state of Meghalaya and Mizoram, yet, the party is confident of coming to power. The enthusiasm has gone up because of the twin victory in Himachal and Gujarat.
MIZORAM VISIT While in Mizoram, people resented that the Prime Minister visited the state for the first time after almost 4 years of taking office that too for 1 hour only. Local NGOs initially intended to boycott the visit of the Prime Minister which was later withdrawn. The Prime Minister dedicated 60 MW Tuirial Hydropower project to the nation which is considered a boon for the people of Mizoram. This has also made Mizoram a power surplus state, only after Sikkim and Tripura. "The completion of this project is a reflection of our commitment to completing the ongoing projects and ushering in a new era of development in the North East" said Mr. Modi. He also did not forget to remind the people of Mizoram that Act East Policy of Government of India will make Mizoram the gateway to the South East Asian countries. The Kaladam Multi-Model Transport Project, linking Aizawl with the Sittwe Port in Myanmar would provide a wide range of benefits to the state of Mizoram. In the developmental perspective, Mizoram which was isolated since the last 7 decades is going to be the Front Runner once the Kaladam Multi-Model Transport Project is completed in toto.
However, it is too early to say anything about the poll prospect of Mizoram in the perspective of BJP. It is true that Mizoram is a 100% Christian state where Church and NGOs play an important role in shaping the decision of the people. Secondly, Mizoram being a small state will always like to be a part of the government which can assist the state financially for development. It is a general perception (may not be true) that if the state and the Centre has the same political affiliation, then things become easier and better. Thirdly, political parties cannot ignore the Chakma crisis which also has a role to play besides many other local factors. We have to wait and watch for things to happen.
Add a comment
Read more: BJP Rally For Change