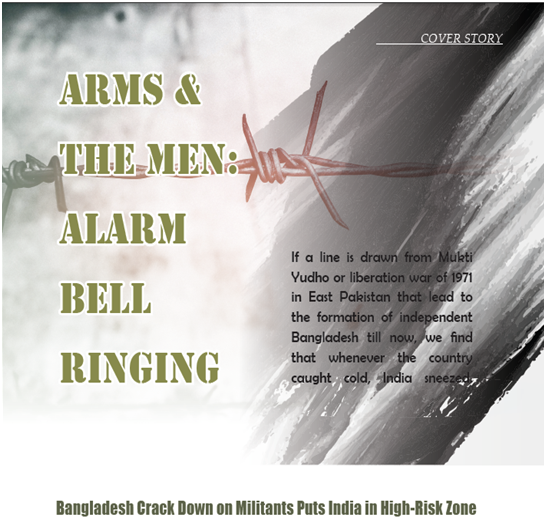 The export of terror from pollbound Bangladesh to West Bengal, the Seven Sister Zone and Sikkim has emerged as a major concern for the security of India. The National Investigation Agency (NIA) has said that the infiltration of pro- Islamic State Mujahideens, arms smugglers and drug peddlers in India through the 4,096 km Indo-Bangladesh border is jeopardizing the national security in its entirety. Though the entire India is in risk as the Bangladeshi Mujahideens are setting up their arms training camps, recruiting Indian Muslims as fighters and establishing clandestine bases dotting across India, Meghalaya, Assam, Tripura, Mizoram, West Bengal, Jharkhand and Bihar are particularly under the scanner. In fact, a real-time risk now is looming large as the Sheikh Hasina Government has launched a massive crackdown on the Islamic terrorists who wants to oust her government and establish a Sharia-based Islamic rule in Bangladesh. The Rapid Action Battalion (RAB) has so far killed over 162 frontal operators of pro-Jihad militant outfits. The RAB has been given a free hand to kill in encounters the Jihadi fighters. These fighters are meant to carry out killing operations and causing subversive activities both in India and Bangladesh. To exemplify, they plotted earlier this year to kill the Dalai Lama, supreme spiritual Guru of Buddhists. The NIA has already warned West Bengal, Bihar and Jharkhand about the possible escalation of operation by these fighters in near future.
These Jihadi fighters also tried to kill Sheikh Hasina, the Prime Minister of Bangladesh, over 19-times since she came to power. Now these Jihadi fighters are fleeing to Meghalaya, Assam, Tripura, Mizoram, West Bengal, Jharkhand and Bihar to save their lives. Living in Bangladesh may mean their encounter killing by the RAB. The RAB has so far busted over 362 safe havens, camps, hiding places and dens of these Jihadi fighters. Naturally, they have nowhere else go to but these states dotting India.
Dangerously Close Proximity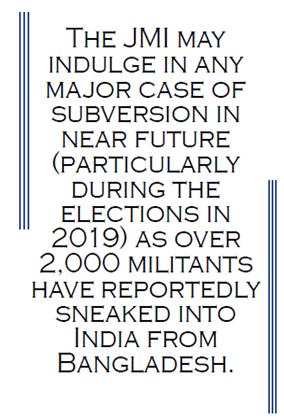 The bus services between Dhaka, Kolkata, Agartala, Shillong and Guwahati has further aggravated the risk factor of infiltration of Mujahideens in the Seven Sister Zone. On focusing our attention to Meghalaya, we find that there exits over 98 "Gaps" consisting of drains, rivers and streams and 90-km area that have not been fenced yet along the Bangladesh-Meghalaya border that comprise 443 kilometers. The risk factor of the states grows up as they share massive areas of border with Bangladesh. The kilometerbreak up is: West Bengal (2,216 km), Tripura (856 km), Mizoram (318 km) and Assam (263 km). According to the West Bengal Police, the six plotters arrested confessed during interrogation that they smuggled explosives at the Mahabodhi Mahavihara of Bodhgaya in Bihar to kill the Dalai Lama during his visit there to avenge the alleged persecution of Muslims of Rakhine province in Myanmar.
To read the further article please get your copy of Eastern Panorama March issue @http://www.magzter.com/IN/Hill-Publications/Eastern-Panorama/News/ or mail to contact @easternpanorama.in